Login
Log in if you have an account
Register
Having an account with us will allow you to check out faster in the future, store multiple addresses, view and track your orders in your account, and more.
Create an account
Shopping for Your Beginner Musician
27 Nov 2018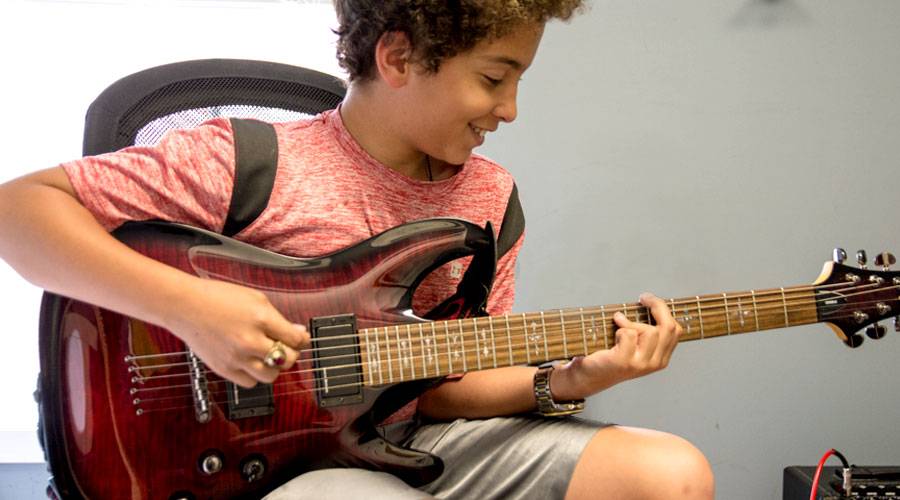 Shopping for a Beginner Guitarist 
There are tons of beginner guitar options out there, which can make things tricky. Guitars at all price points, brands you know, brands you don't, package deals, different sizes, different shapes... the options are endless.
The most important thing to know about a guitar when purchasing for a beginner, is that all guitars need to be of a certain quality and need to be setup properly before being played to ensure they play and sound just right. To make sure you're getting a quality guitar, shop with a trusted store. A higher quality guitar will use nicer materials, have better sounding pickups, better internal electronics, and heightened playability. Any guitar we carry at Sims Music surpasses that quality mark, from beginner guitars to our most advanced. Starting with a quality guitar ensures a great setup, which makes the guitar sounds great and easy to play. 
Electric Guitars
It's nice to know what to look for, but there are still so many options. Our favorite (and most popular) at Sims Music is the Fender Squier Bullet Strat. This newly redesigned Strat is ideal for first-timer players looking for an easy-to-play, affordable electric guitar. The slim "C"-shaped neck profile offers a comfortable playing experience that is perfect for players with smaller hands. Equipped with a fat-sounding humbucking bridge pickup, two single-coil Stratocaster pickups in the middle and neck positions and five-way switching, the Bullet Strat maintains the classic Fender sound heard on countless hit records.
Acoustic Guitars
For the new guitarists taking the singer-songwriter route, there are lots of acoustic options out there. Two of our favorites are the Taylor Academy series and Fender Acoustics. The Taylor Academy Series was created specifically with new players in mind. These guitars have been stripped to the bare essentials to produce the highest quality at the lowest price point possible. We also love the Fender FA-125. These guitars setup nicely and play really well, all at a great price point. They also produce a well rounded sound from their full size body. 
Guitar Packages
As with any new hobby, there's always more to it than meets the eye. A new guitarist will need a strap, picks, bag, and more. We've taken the guess work out and created some Sims Music approved guitar starter packages to get you kick started with the essentials. 
Electric Guitar Pack
The Fender Squire Bullet Strat* comes in an array of colors to compliment your aspiring musician's new rock aesthetic. You're sure to find the right size, as they make a mini version for young kids. We've paired this guitar with a great Fender amp full of famous sounds and a built in tuner, a nice bag, a cable with a lifetime warranty, a guitar strap, picks, polish cloth, a t-shirt, a free setup by our guitar technician, and $50 OFF your future rockstar's first month of lessons at any Freeway Music location (in person or on Skype). At an affordable price, a cool look, and exceptional quality, your new guitarist will be rocking in no time.
Acoustic Guitar Pack
We have also created a package for acoustic guitars that includes all the necessary accessories. We have paired an Epiphone DR-100* acoustic (setup by our tech) with a bag, a guitar strap, picks, polish cloth, clip on tuner, t-shirt, and $50 OFF the first month of lessons with Freeway Music! This package is perfect for a beginner of any age who wants to get started on guitar.
*If you find a different guitar that speaks to you, we will gladly package up all the essentials with your preferred guitar. 
Shopping for a Beginner Drummer 
This is my favorite part of Christmas… helping people find their new drum set! Trust me, there is no better gift (even though I may be a little biased). I will admit, buying a beginner drum set does cost more than a guitar, but for a good reason. Beginner drum sets come with drums, stands, stool, cymbals, sticks, drum key and more. And honestly, these drums sound great! There are a lot of things that one may not be able to see when looking at a beginner drum set, but trust me, they matter. The quality of the shell, the durability and functionality of the hardware, brand they are made by, and more all go towards making a kit what it is. You really can't go wrong with brands like Ludwig, DW, PDP, Yamaha, and Tama. There are a handful of beginner kits out there in the $200-300 range, but I'd recommend you stay clear of those options if you can. They'll come with cheaper wood, drums that aren't completely round or have bad shells so they won't tune up properly, and cheaper hardware that will break on you. 
I've always said that you could blindfold me while I put together a drum set and I could tell you what they cost, but the beginner kits at Sims Music this year would have me fooled. Starting at $400, we have a wide variety of beginner kits for all ages, including the Ludwig Pocket Kit, Ludwig Junior Kit, and the Ludwig Accent Series Kit. Ludwig has always earned the most famous name on drums as they continue to make some of the best drums in the world. Having a strong name brand behind a beginner drum set really means a lot, because you know you're investing in great, lasting quality. With a lot of great colors, different configurations and sizes, and really nice hardware, we are proud to sell Ludwig as the perfect kit for the beginner drummer in your family.
Shopping for a Beginner Pianist
As with the other instruments, piano also comes with several wonderful options at varying price points. One of the first distinctions to consider when buying for your new player is getting a digital piano verses a portable keyboard. On a spectrum, the digital piano sits closer to the classic acoustic piano, while the keyboard rests on the other end of the spectrum. The digital piano often maintains the 6 octaves of the traditional, acoustic piano, with added portability and technological functionality. Digital pianos also come with a much preferred feature, weighted keys. This is the most desired feature for a pianist, as it gives the convenience of owning a smaller, more portable instrument, without sacrificing the feel of a real piano. This year we have several different options from Yamaha with weighted action such as the P45, the P125, and the DGX660. 
Digital pianos do come at a higher price point, so if you are little hesitant to spend the money for a digital piano, then a portable keyboard may be the perfect fit. Keyboards typically have fewer octaves than digital pianos and are lighter weight, which increases portability. Yamaha portable keyboards (starting around $100) come with semi weighted action, nice speakers, and inexpensive stands and accessories. Portable keyboards also come with hundreds of sounds, which help keep young ones interested and encourage your aspiring music producer. The Yamaha PSR-E263, PSRE363, and EW300 are all great places to start. Take a look at the different models on our site, and come by if you'd like to chat the differences between the models with our keyboard specialist Bill Blackwelder or myself. 
Music Lessons
With beginners in any instrument, the first 6 months of playing can be the most important. Because of this, we have partnered with Freeway Music so we can make sure we put your future rock star with the absolute best teacher at the best music school around! Freeway Music doesn't just offer music lessons, they work with students to tailor a path to success that is right for the individual. Having someone help as you learn and providing accountability can really make your investment worth the money, and the payoff could come a lot quicker that you may think. 
There are a lot of options out there, so don't shop directionless this holiday season. It's so much fun helping people pick out the perfect gift for their loved ones, so give me a call or shoot me an email at [email protected] if you'd like to chat details about any of our options for guitars, drums, or keyboards. I'm here 24/7 to make sure you and your loved ones have the best Christmas ever! 
Thanks so much for reading, and I look forward to helping you all very soon! 
(also, if anyone can help get my shopping done for me, please let me know :) )