Use SEZZLE to Split Your Purchase into 4 Interest Free Payments!
Login
Log in if you have an account
Register
Having an account with us will allow you to check out faster in the future, store multiple addresses, view and track your orders in your account, and more.
Create an account
Compare the DW Series Drums
23 Oct 2017

Compare the DW Series Drums
The DW drum set is what I always refer to as the "Ferrari of Drums." Over the last 45 years, John Good, Don Lombardi, and their team have created some of the most amazing drums and innovations in the percussion world. From kits for beginners, to a complete custom series of drums, and innovative hardware such as the Mag Throw Off and Machine Drive Pedals, DW has been the front runner of the drum world in just about every way.

Over the years as the company has expanded, they have introduced new series of kits to the world. I often get asked about the DW Drum Series differences, so I've broken the series down to help you find your best fit.
DW Collector's Series
The Collector's Series is all about you being able to have a custom kit. From hardware, shell ply configuration, finish, and sizes, you can just about have anything you'd like. You will pay more than the average kit but trust me, its worth it.
They do offer the Collector's Series in certain production run colors, but you can go as custom as you want. Pick from a variety of exotic woods, choose your color, fade, and sizes. Also, we can work with you to pick out which shell configuration is best for each drum so that you can get the exact sound you are looking for. You may want higher pitched tom toms but very low floor toms, and your wish is our command. This offering by DW is unlike any other drum company in the world. Another thing I love about the Collector's Series, is that every drum is pitch matched to be in the kit. You may assume that a 12" tom is automatically deeper than a 10" in pitch, however this is not the case. All wood is different, so DW hand selects each drum for your custom kit, records the pitch of the shell before doing anything to it. This guarantees that the drums, in their natural state, are descending in pitch as they go bigger in size. This is crucial in creating that classic DW sound and in giving you the perfect, customized kit of your dreams.
DW Performance Series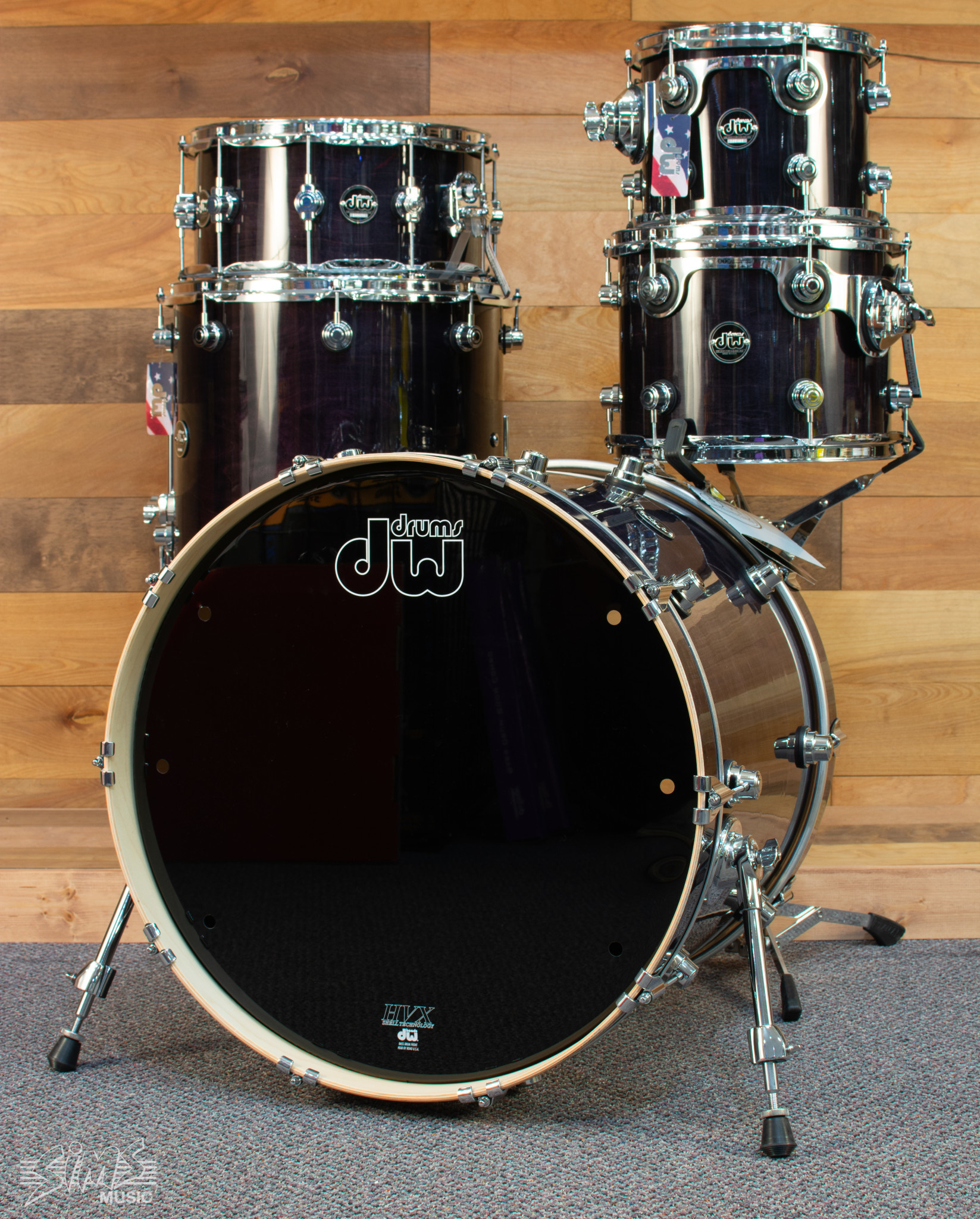 So more than anything with DW Drums, I get asked, "what is the difference between Collector's Series and Performance Series?" My answer is usually, "Nothing." DW Performance Series drums are North American Maple, made and assembled in the same factory by the same hands as the Collector's Series, just not designed to be a custom drum. DW has put together some great sizes and colors for the drums, so where your options may be limited compared to Collector's Series, but the quality isn't sacrificed one bit. They also created a special shell configuration called HVX. This technology guaranteed that the pitch of the drums descend as the sizes get bigger, therefore eliminating the man hours of handpicking shells like the Collector's Series.
Back in 2009, I was at dinner with Chris Lombardi, President of DW, and I spent a majority of the evening discussing the possibility of DW coming out with kit in the $2000 price range, compared to the Collector's Series, which can go anywhere from $3500 and up. We discussed all of the different options and ideas about the kit, but what stood out to me the most that night was when Chris looked at me and said, "Justin, this is my family's business. If we were to make a drum kit for $2000, it has to be a DW drum set in every way. The quality cannot be sacrificed." DW introduced the Performance Series 6 months later. Chris said they wouldn't sacrifice quality, and he stuck to it. The quality and sound of this kit is incredible, which is why a lot of famous players, such as Tony Royster Jr., have chosen to play Performance over Collector's. If you are looking for a high end kit, with an amazing look, feel, and sound at a mid-level price, look no further than the Performance Series. 
DW Design Series
A DW Kit for $1599! How could this be possible!? I'm not really sure honestly, but it is. DW designed this series to deliver the DW sound at a price point just above a nice PDP kit. The kit is made of North American Maple (crucial for the quality of sound) and assembled in Taiwan. By cutting down on labor costs, they were able to deliver an outstanding drumset at an amazing price. The Design Series can be purchased in a handful of configurations, with some awesome colors. You can see these kits being played by national acts all over the world and also by our great friend, local (and AMAZING) drummer, Jacobi Gunter. Jacobi is as professional as it gets, and he has been playing a Tobacco Sunburst Design Series kit for years. If you haven't seen him live, I suggest you get to it. It will be a great display of the Design Series, as well as the amazing talent that is Jacobi. If this series needed any credibility (which it didn't), it got it when Jacobi picked it to be his kit of choice!
Ultimately, you cannot go wrong with DW. Whether you are a professional, gigging musician, a church looking for quality without breaking the budget, or just a hobbyist who wants something special in their drum collection, DW has you covered. As a drummer myself, I have been blessed to be able to own 3 DW kits (1 of them was stolen, so please let me know if you see a 4 Piece Collector's Series in Olive Ash Exotic wood, I'd really like it back). I can speak from experience that the sound and feel of these kits is something you cannot find elsewhere. 
I've always said, when you pull up to the gig with a DW kit, its like pulling up to the club in a Ferrari. I promise... it's a great feeling. Check their stuff out or come by the store to start designing your custom kit! 

Thanks for reading, and rock on!