Use SEZZLE to Split Your Purchase into 4 Interest Free Payments!
Login
Log in if you have an account
Register
Having an account with us will allow you to check out faster in the future, store multiple addresses, view and track your orders in your account, and more.
Create an account
The Perfect Snare...at Every Price!
17 Apr 2019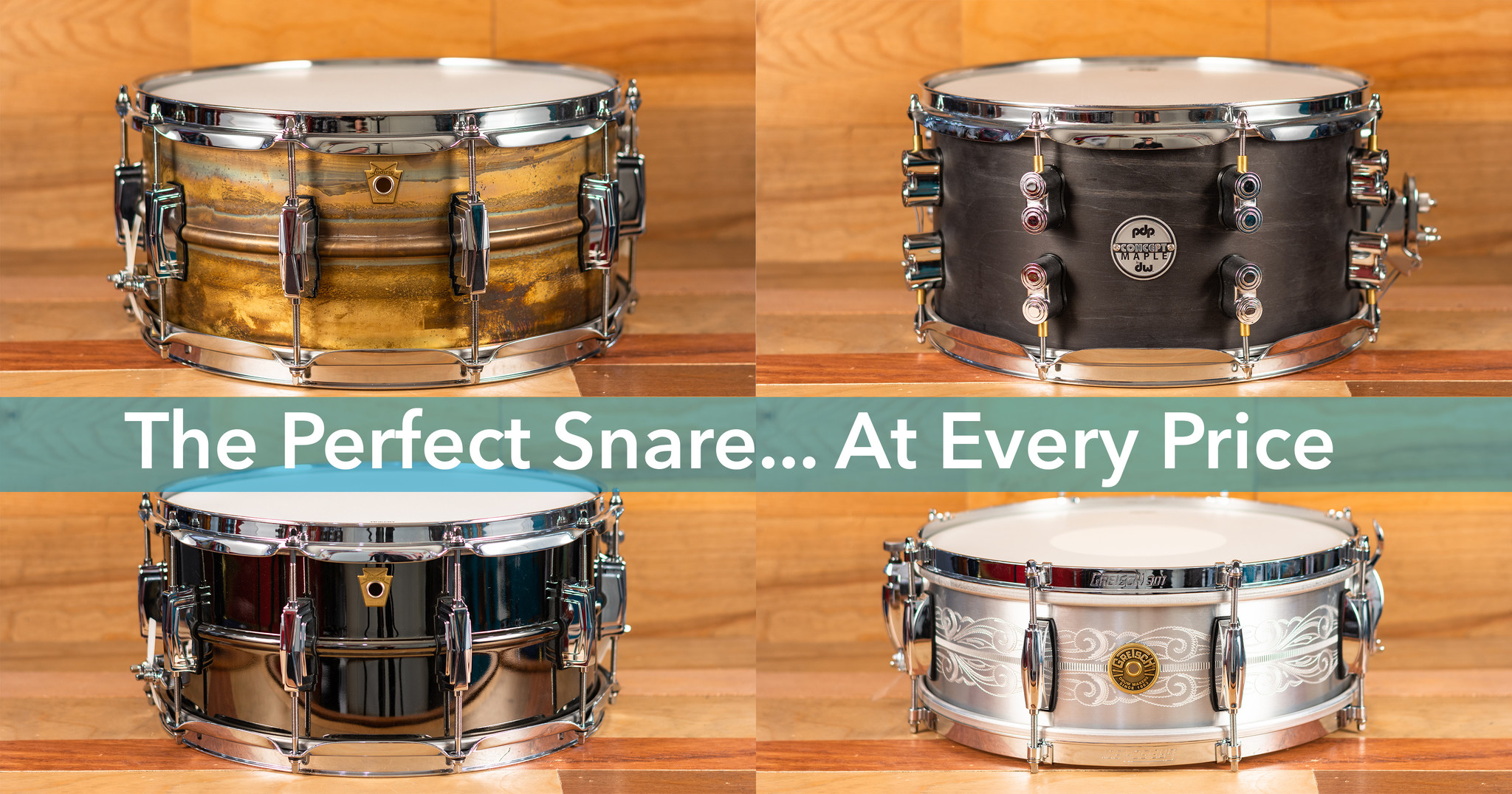 One reason for this is just because it is fun to buy new gear but I would say it is justifiable however because there are so many different options with different characteristics and sounds! (I admit I am biased as I attempt to justify buying more drums due to my personal collection)
Most of us drummers started off on whatever snare drum we could get our hands on, even if it wasn't of the best quality. This drum must stay with us forever! So you've got a collection of one and it is time to add more! After this comes the rock n roll snare, then maybe the funk snare, orchestral snare, jazz snare drum, and so on.
This journey and search for the perfect snare drum is a major part of the big picture! This is one of the things that fuels us as drummers, that which inspires us and makes us proud to show off our new gear and our new chops! Whether you are looking for a quality drum at a very affordable price, something on the pro level with a wide variety of sounds and uses, or maybe something incredibly special that can remain with you and your family forever, there are a lot of great options for you. I'd like to share a few of my favorite snares that we have at Sims that I believe are the perfect fit for all three of these needs.
PDP Black Wax Snare Drums
Let's start with the "bang for the buck" snare drum! We've got a couple of great options here. My first go to is the PDP Black Wax Snare drums! These drums, which come in a variety of sizes, are built with maple shells and come complete with the DW Mag Throwoff, True-Pitch Tuning rods, and with a Remo drumhead! This drum is packed with versatility. Whether you are looking for a nice pop sound for gospel or funk or if you need to tune down to a fatter, more open sound, this snare can deliver. It sounds fantastic and looks just as great, with its black wax sealer that provides a great earthy finish. The craziest thing about this drum is that it is under $200! In my opinion, this drum can be someone's first nice snare or even a professional drummer's gig snare!
PDP Black Nickel Over Steel Snare Drums 
In the same price range but one with different tonal qualities, PDP has another great snare to offer...the Black Nickel over Steel Snare! This drum is somewhat modeled after the legendary Ludwig Black Beauty (we will get back to this drum later I promise) but instead of a brass shell, this one is steel. With the drum being made of steel, they were able to pull similar sound characteristics all while keeping the price point more affordable. These snares, which also come in a variety of sizes, look absolutely stunning and even sound better! If you are needing to get a little bite and cut-through tone out of a drum, then this one could be the one for you. This drum can be tuned in a variety of ways for many styles of music, but I imagine it being cranked with a nice snap, an acceptable amount of breath and ring, with the pitch you've heard on all of your favorite Chad Smith drum parts! If you've been playing the same old snare for years but are looking to add another tool to your setup without breaking the bank, this is the drum!
Ludwig Black Beauty Snare Drum
So if you've ever listened to music....then you've heard a Ludwig Black Beauty! This snare is the most recorded snare in the history of music! Whether it be country, rock n roll, gospel, or any other style...this drum has been used to record it. This drum definitely comes in at a higher price point than a lot of other snares out there but this is the "last drum you will ever need" kind of drum. (Disclaimer: this doesn't mean you will never want another one...because that will never be the case for drummers). This drum is built with a thin, seamless brass shell with black nickel plating and packs a warm, rounded tone unlike any other drum out there! Due to the intense and rigorous process of making these drums, Ludwig is only able to make a limited amount annually. It usually takes us anywhere from 2-5 months to receive our Black Beauty snare drums for the shop! I've been lucky enough to go to the Ludwig Factory in Monroe, NC and got the chance to watch their hardworking staff build these drums. I was absolutely blown away by how much work and care goes into each drum (each drum is even blessed by holy water upon its completion!)
Ludwig Raw Brass
A few years back, Ludwig decided to bring out a new version of the legendary Black Beauty. Before these snares go through the rigorous process of getting the shells perfectly smooth and shiny, they come to the staff in an unfinished, raw looking finish. (when I saw it at the factory years back, I was thinking how cool it would be to have one unfinished). Sure enough...a few years later, the Ludwig Raw Brass Snare was released! Very few drums will ever, if ever, look cooler than these! With its raw, unfinished look, every one of these drums has its own unique look, essentially making every drum one of a kind! This 10 lug snare delivers a similar sound as the Black Beauty but with a little more of a dryer response that can work great for a variety of musical styles. I've had friends and customers use their Raw Brass snare for modern worship music, jazz, and funk/rock gigs! Take a look at these beautiful pictures but then hurry in and see this beauty in person!
Gretsch 135th Anniversary Snare Drum
Now it is time to take a look at a snare drum that is meant to be with you and your family forever! 
Recently Gretsch celebrated their 135th Anniversary and wanted to do something very special...and wow, did they ever!? The Gretsch USA Anniversary Snare is a 14" x 5", 8 Lug, Aluminum shell that has been hand engraved by master engraver Eric Sooy. They also only made 135 of these drums and we were lucky enough to get one of them! I was lucky enough to get to hear this drum when they announced it at the NAMM Show but as for the one in our shop, I have never heard it and probably never will, as it is waiting on someone to purchase as a Collector's item. (If it were mine...I'd take it on a gig in no time by the way).
With single flange hoops, mini claw hoops, and an incredible, deluxe case, this drum honors the history of Gretsch Drums, all while presenting a modern and beautiful product.  If you haven't gotten a chance to see this drum yet, take a look at our photos online and come in to see it in person if you can. It is really hard to believe that someone could engrave this by hand, as the design is perfectly done by Mr. Sooy and leaves everyone blown away!
As you can see there is a wide variety of price ranges for snares but don't let that be the only characteristic you think you need to find a quality drum. This day and age, drum companies have been able to master manufacturing in a way that allows them to build amazing sounding drums at all prices ranges, including under $200! Obviously, the more you spend, the higher the quality of materials used and the craftsmanship behind the drum, but if the best sounding snare to you is one that cost $100...then thats the drum for you! We've got a variety of drums in stock from all of these great brands I've mentioned as well as Pearl, Mapex, and more! Come in and see myself or our other drum guys and check out these great drums and maybe you will find the perfect addition to your family of drums! Thanks for reading and feel free to contact me if you ever have any questions!
-Justin Sims