Use SEZZLE to Split Your Purchase into 4 Interest Free Payments!
Login
Log in if you have an account
Register
Having an account with us will allow you to check out faster in the future, store multiple addresses, view and track your orders in your account, and more.
Create an account
DW B Stock Snares Have Arrived!
22 Oct 2020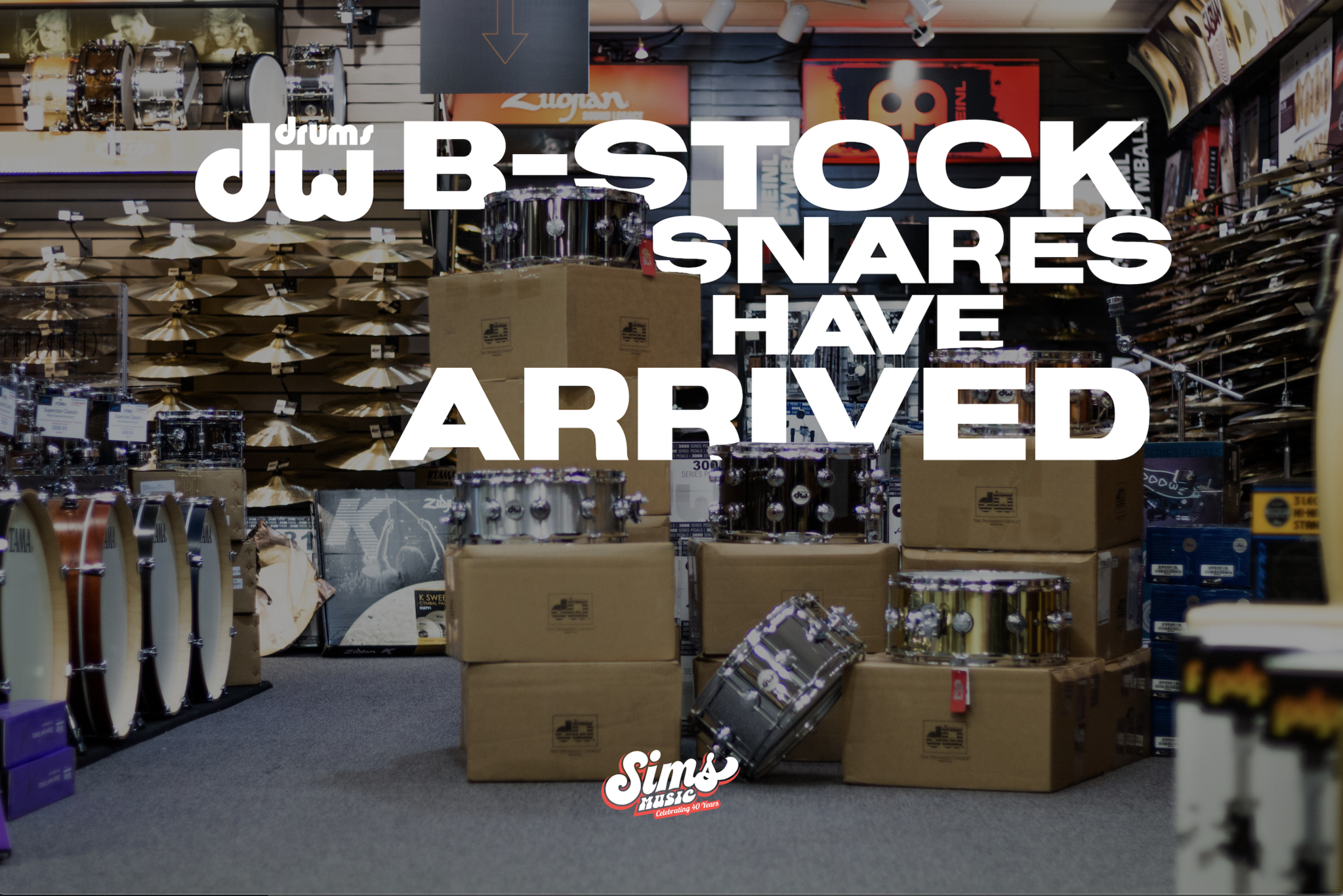 Hey everyone! Justin Sims here. Hope everyone is doing well and surviving in these crazy times. We've been working hard over here to get the store ready for the holiday season and luckily have been getting some amazing products coming in daily so we can make sure you all have more of a selection to shop from (and drool over) than ever before! Obviously we get some great guitars, pedals, and keyboards coming through the door every day, but I am always going to get the most excited about anything showing up for our drum department. And I may be more excited right now than ever...
We have been carrying Drum Workshop snare drums for a long time. And I have a collection of my own to prove it. In my opinion, they are the best snare drums out there. Whether it be the beauty of their custom built exotic snares, their wide variety of high quality metal snares, or even the full lineup of snares from their partner brand, PDP. We are always trying to get more and more of these snares in stock but never have we had as many as we do today! Just recently I got a phone call from my inside rep at DW letting me know that a limited batch of DW B Stock Metal Snares were available and I was the first one he was calling! I quickly ran to my computer, took a look at the list, and started ordering whatever I could get, as this does not happen very often (if ever). Drum Workshop requires the highest of quality assurance with all of their products but occasionally there could be the slightest of an issue with an item from the manufacturing process. With metal snares, this usually may mean that the metal plating isn't 100% perfect but any actual flaws are possibly even invisible to most eyes. We were lucky enough to get over a dozen of these snares! We have inspected everyone of them, shot detailed photographs, and tested all hardware, and they are all amazing. You may be able to notice a tiny mark on a finish or maybe a slight difference in between the look of two identical models but the sound, feel, and hardware is flawless as usual! 
Among the snares we received was a variety of models: Black Nickel Over Brass in a variety of sizes (including the super popular 14" x 8"), Chrome Over Steel, Thin Aluminum, Polished Copper (I personally own one of these and it is amazing), and then probably the fan favorite...the 3mm Bell Brass Snare! Each of these snares are from the Collector's Series at DW, come with with True Pitch Tension Rods, the amazing DW Mag Throw off and 3 Position Butt Plate! 
So I've talked about how awesome these snares are but I forgot to mention the best part about the B Stock drums...they are all $100 lower than normally priced!! Its crazy to think that you can get a 14" x 6.5" Black Nickel Over Brass snare, comparable to the legendary Black Beauty by Ludwig, for under $400! If you have been looking for an additional snare to mix up your sound at your gigs, or maybe your kit came with a wooden snare but you are looking to add some color and new tone with a metal snare, or you just have the same itch as me and you need to scratch it...then you've got to check out this selection of snares!
The last time we received some B Stock snare drums from DW they didn't last but 2 days so we do not expect these to last long. Come in if you can to check them all out or take a look in detail at each individual one available on our site and pick out your new favorite snare!
Thanks for reading and hanging out on our site and please feel free to reach out to me if I can help with snares, cymbal selection, drum repair, or anything percussion related! Thanks for your continued support for our drum department and I hope everyone has a great ending to a crazy year!
Stay Safe and Rock On!
-Justin Sims