Use SEZZLE to Split Your Purchase into 4 Interest Free Payments!
Login
Log in if you have an account
Register
Having an account with us will allow you to check out faster in the future, store multiple addresses, view and track your orders in your account, and more.
Create an account
Mayer Did It Again: A look at the PRS Silver Sky from Blaine Williams
17 Sep 2020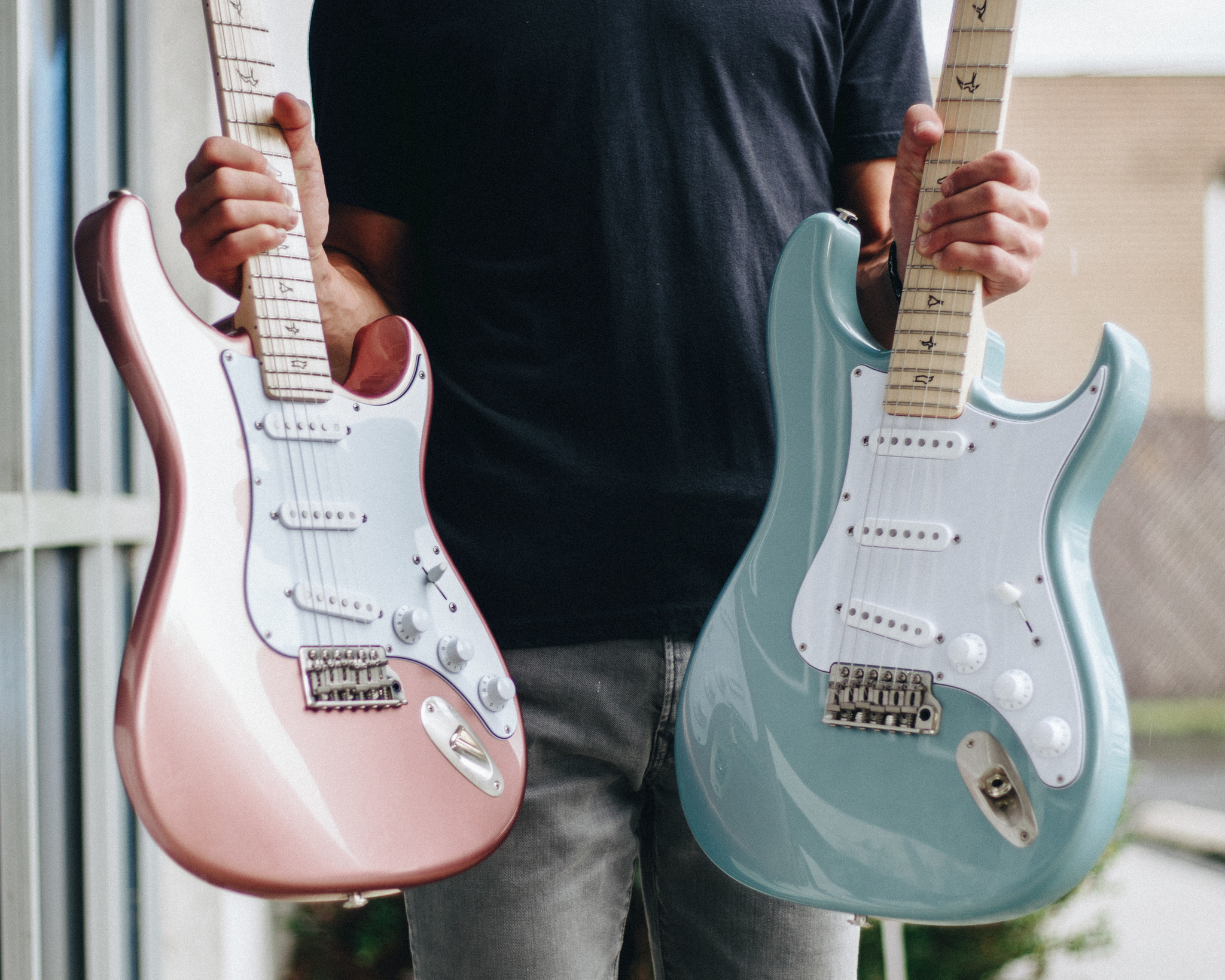 What's up, Sims Music Family! Today we have some very exciting news here in the store. We have been waiting for a long time, but they are finally here. Just in from PRS is the highly anticipated PRS Silver Sky in two of the new color schemes Midnight Rose and Polar Blue. Not only that, but they also come with an excellent feeling and looking maple fretboard, which are one of the new options in the latest release of Silver Sky. Personally, as a huge Mayer fan, I am enthralled to have these fantastic guitars in our store. When John Mayer was designing this guitar, he was inspired to build an instrument that played true to the feeling of a vintage strat but also had a modern aesthetic. 
"It's been a dream of mine for years to design a guitar that includes some of my favorite vintage specifications but with a modern spirit and aesthetic. After two years of study and refinement, the Silver Sky is my vision of what a reboot of the electric guitar should look and feel like." 
– John Mayer 
With the new colors we have in stock Midnight Rose, and Polar Blue, those who desire some pop in color are in for a treat. It also blends beautifully with the newly featured maple fretboard. On the fretboard also includes the classic PRS bird emblem outlined in black, which gives it a very clean look. When you pick up this guitar as soon as your hands hold it, you will notice a great feeling vintage-style neck. The Maple necks have the signature 635JM neck shape. You will also realize that like vintage strat style guitars; this neck is slightly thicker than your standard feel, so to speak. It also comes with nickel hardware featuring vintage-style locking tuners. This guitar comes installed with the impeccable sounding 635JM signature pickups. These volume pots are also super sensitive. Your volume will increase or decrease by every number on the volume knob. A lot of the time, volume knobs only seem to have three different volume levels. However, the tone and volume tone control on the Silver Sky is not only precise, but it is also super reliable. The Silver Sky combines the two themes of vintage feel and sound with modern design and reliability. When you plug this guitar into an amp and close your eyes, you will think that you are playing through genuine vintage pickups that have had decades of aging and playing. However, you will be greatly surprised to know that this guitar doesn't need decades to age in order to sound great. That's the advantage of Mayer's signature JM635 pickups. Their warm tone provides such fullness and clarity that sound amazing in every music setting.
On Mayer's last tour, he proved the validity and playability of this guitar. For the majority of his songs, you could find him shredding on this fantastic instrument. As John is usually the type to switch guitars every song, you can tell this guitar is something special considering he would go four to five songs without putting it down. The great thing about PRS is their consistency in building guitars. The same guitar and same specs that Mayer plays is identical to the very Silver Sky's hanging in our store. This will give customers the ease of mind when purchasing this guitar. There is really no such thing as a "bad batch." But don't take my word for it; come play one yourself! Not only is Mayer a world-renowned artist, but he is also one of the best guitar players still touring today. He has designed a guitar that players around the world have fallen in love with. Working here at the store, I have a tough time not picking up one of these guitars every time I see it hanging on the wall. They really play that good! In addition to the two we just received, we also have two others in stock being the Moc Sand with a rosewood fretboard as well as a Golden Mesa, also featuring a rosewood fretboard. 
The bottom line is these guitars are bad to the bone. Whether you're a die-hard Mayer fan like myself or just simply looking for a great guitar, then you need to come to the store and pick up one of these killer instruments. They are versatile in every genre, and I can assure you that you'll have a hard time putting it down yourself. Come in to play these instruments before they are gone. It would be a joy of ours to send you home with one of these fantastic guitars from PRS!
Hope to see you soon!
Stay Safe and Rock On!
Blaine Williams