Use SEZZLE to Split Your Purchase into 4 Interest Free Payments!
Login
Log in if you have an account
Register
Having an account with us will allow you to check out faster in the future, store multiple addresses, view and track your orders in your account, and more.
Create an account
Our (Not-So) Short List of NAMM Favorites
30 Jan 2018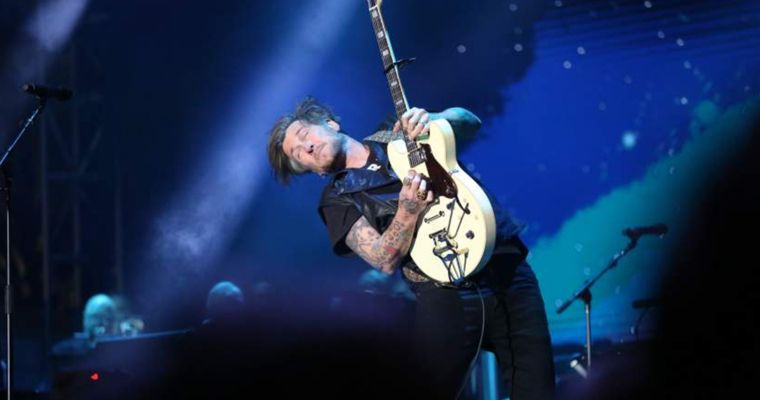 Marshall 
Origin Amps
Expression begins with the all valve OriginTM series. It delivers two inbuilt voices, a new tilt control, PowerstemTM our new power reduction  technology and forms the perfect marriage with FX pedals. The classically styled single channel amps generate rich and harmonic tones that are ideal for players to explore new possibilities and craft their sound. There is a 2-way footswitch available with all models so you can control the gain boost and turn the FX loop on and off. The series has something for those playing in the bedroom, at rehearsal or on the stage.
MG and DSL amps
Redesigned MG and DSL amps are arriving in waves, and you can find some of the new models already at Sims.
Zildjian
K Zildjian Sweet Collection
We're already pretty taken with the new K Zildjian Sweet Collection, and they're selling quickly at Sims. Zildjian has extended the iconic K Family into a new direction of tonal colors that are dark, sweet, and responsive. 
Sabian
Quiet Tone Cymbals
Sabian's new Quiet Tone Cymbals are in stock now! These are every drummer's solution to every spouse, parent, or neighbor's problem with late night practice. 
FRX Cymbals
We are really excited to introduce Sabian's new FRX cymbals. They're are designed for playing environments where other cymbals are just too much. They are NOT low volume cymbals. Rather, FRX work by cutting specific frequencies, resulting in the perception of lower volume. Remove these frequencies, and suddenly your cymbals sit perfectly in the mix, no matter how hard you play. They're on their way to Sims Music, so you'll be able to try them soon.
Fender
American Original
Fender's American Originals draw from the best pieces of classic Fender style. These "best-of-the-decade" versions of our most iconic instruments are updated to be even more playable for the modern musician. You'll find period-accurate pickups put together with original-era construction techniques, era-specific neck profiles, and a nitrocellulose lacquer finish which is distinctive to original-era Fender electric guitars and ages in a beautiful, appealing way.
Fender Effect Pedals
We love Fender's new line of pedals. The team at Fender has developed some innovative solutions to make pedals that not only sound great, but are intuitive for any player. LED lights in the knobs and a magnetic battery door solve usability issues you didn't even know you had. 
LowBoy Custom Beaters
We loved meeting LowBoy Custom Beaters at NAMM, and are excited to have our first shipment on the way. Crafted in Denver, Colorado, these beaters are designed to last a lifetime and blend perfectly with the finest drums and cymbals in your collection.
Tackle Instrument Supply
Another new vendor we're excited to bring to Sims Music is Tackle Instrument Supply. Made in Minneapolis, MN, Tackle understands the relationship between a musician and their gear and seeks to protect and further that connection through high-quality, thoughtfully designed cases and accessories.  Inspired by the heritage cases from bygone eras, Tackle goods maintain the classic, simple aesthetic of those early designs but with the integrity and durability of modern production. 
Taylor Guitars
V-Class Series
We love the sounds of Taylor's V-Class Series. They've created a groundbreaking new bracing system that transforms the way an acoustic guitar top vibrates to dramatically improve the sound. Developed by Andy Powers, it marks a bold departure from traditional X-bracing, producing notes that are louder, longer sustaining, and more in tune with each other. The 914ce, K14ce, and Builders Reserve are on the way.
PRS
SE Standards
The new SE Standards are already in stock.
Custom 24-08
New stuff ordered like Custom 24-08, already got a couple real nice custom 24 in stock.
Ludwig
Classic Maple Series
We're excited to have Classic Maples series coming back into Sims Music. 
Black Beauty and Raw Brass Snares
These and other are making their way to Sims Music as we triple our snare collection.
Crush Drums
Crush Drums create amazing drums at a great price, and we're so glad to have them coming back to Sims Music. 
Yamaha
Electronic Acoustic Drums
We're taking orders for Yamaha's new EAD as it makes its way to Sims Music. The EAD10 electronic acoustic drum module enhances the way you practice, record and perform with your acoustic drums and frees your musical creativity. It instantly transforms your acoustic drum kit into a powerful digital/electronic hybrid with sampled sounds and studio quality digital effects. It allows you to play and record your acoustic drums along with your favorite artists from your music library or from tracks from your friends and share them digitally. 
Blackstar
Unity Bass Amps
New Unity Bass amps are coming to Sims Music. From the organic response of classic valve amps, to a transparent clean platform, Unity brings together the ultimate in bass tone.
PDP
Concept Maple Series
New, awesome satin finishes in the Concept Maple series are coming out in March.
DW Tazmanian Snare Drum
We have one of these very limited snares on order.
PDP Signature Snares 
Photo Source: PDP
The Chad Smith and Eric Hernandez models are coming to Sims Music in March.
Kala
Limited Edition 13th Anniversary Ukulele
We love Kala's 13th Anniversary Ukulele and are bringing it to Sims Music.
We've got a lot of other great ukes coming your way. 
Ibanez
We've got tons of guitars on order from Ibanez coming your way. Expect to see them over the next few months.
Gretsch Drums
135th Anniversary Snare Drum 
Only 135 of these beautiful snare drums are made in the world, and we have one coming to Sims Music.
NAMM was full of other cool stuff from brands we carry, and some we're thinking about. If you heard whispers of any gear or brands you think Sims Music should carry, please let us know!