Use SEZZLE to Split Your Purchase into 4 Interest Free Payments!
Login
Log in if you have an account
Register
Having an account with us will allow you to check out faster in the future, store multiple addresses, view and track your orders in your account, and more.
Create an account
Recording / Home Studio Essentials
28 Oct 2020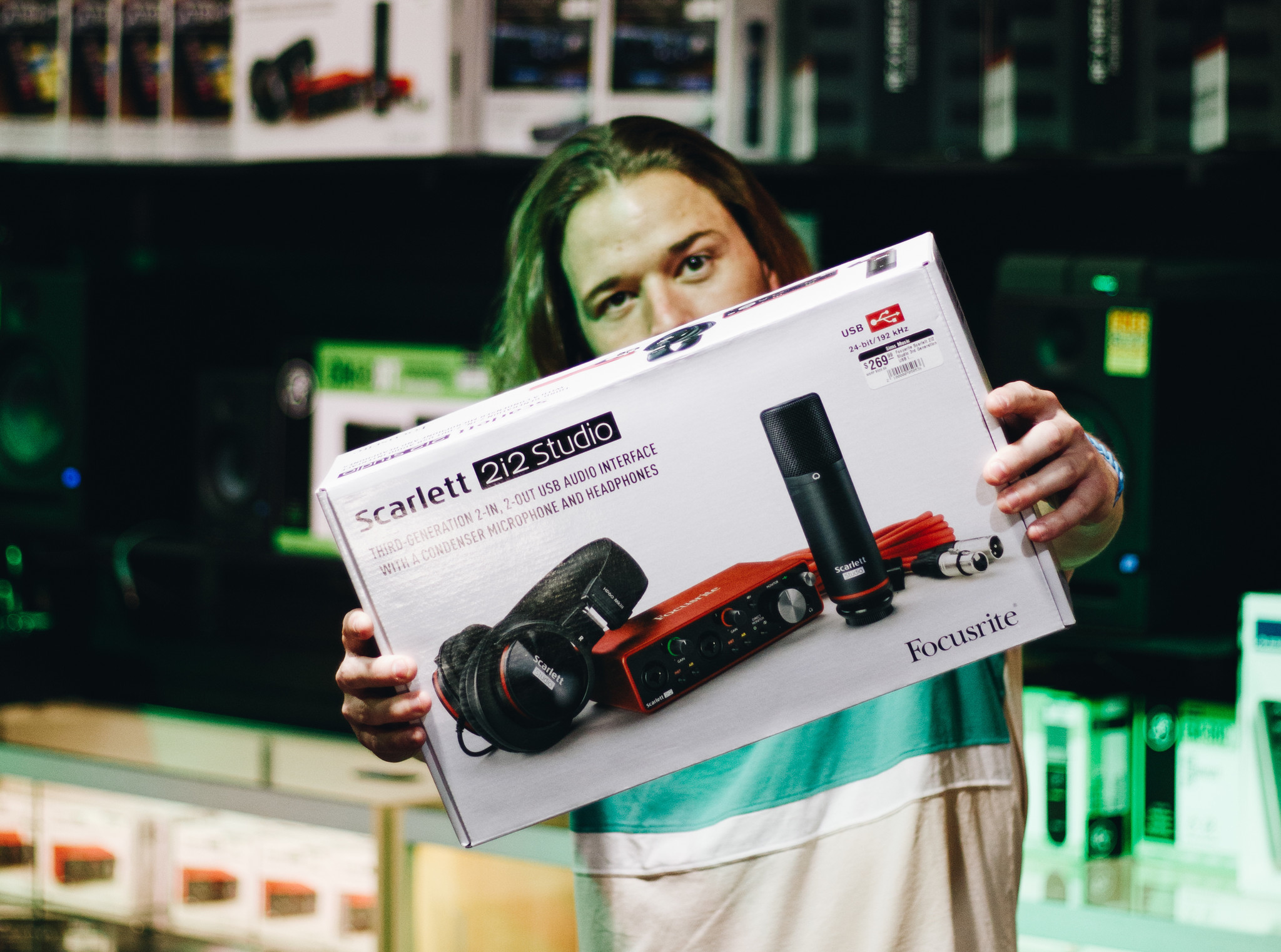 We have been very busy here at Sims Music lately as we have been focusing on ramping up our recording and pro audio departments for the holidays. The respite that has kept us all at home for so long has also inspired many of our customers to venture into creative musical production. We have made sure to respond to this demand with the best and most dynamic range of products that we can. We understand that everyone has different preferences and styles and overall needs when it comes to at home recording or any sort of content creation.
Whether you are just starting out and trying to learn the basics of music production, or getting into professional level recordings and gear, we strive to keep you covered. I have tried to create a brief, no-nonsense run through of some of our products based upon three different levels of quality and function.  
So, if you have caught the recording bug, come by and let's chat and get you started and get prepared to make some hits! Browse professional and home recording studio essentials below.
So you're ready to dip your toe into the water and get recording. There's a few things you should know. Music production has come a very long way in the last several decades. Where at one point, you couldn't track instruments or vocals without the use of a very expensive studio, you can now do from the comfort of your living room - with little to no hardware required. Companies like Audio-Technica, Mackie, Presonus, and many more are creating more and more products for beginner level studio engineers. Below are a couple products that we carry here at the store as well as what their functions are. We're sure these products will help you get started creating the music or content you want without breaking the bank or taking years of training for.
Audio-Technica AT2020 USB+V
- Monitor Mix Knob
- Vision Edition (chrome casing)
- Comes with shock mount
Mackie EM-91CU
- Strong build quality
- Software included: ProTools First
- Great for content creation, live streaming, online meetings, 
- Comes with shock mount
Alesis V25 Midi Controller
- Comes with Ableton Live and ProTools First
- Expands your ability to play music and to record using your preferred software
- Small, light, easy to travel with
Mackie CR4-XBT
- Monitoring for studio mixes
- Bluetooth compatible
- Can be connected via RCA or ¼ Inch TS
- Can be used for home use or for studio monitoring
You may find yourself saying... "I know how to make music, I have an idea of how to do it, but I want to make sure I'm getting the right stuff." Well look no further. Below are some of my favorite studio items for those who would consider themselves an intermediate studio engineer or content creator. These items are sure to give any home studio the edge it needs to make the best music possible.
Scarlett 2i2 Studio Bundle
- Everything you need in a box: Microphone, Interface, Headphones, Cables required and the software needed to run it.
- Really good price for the value of what's inside
- Scarlett makes notably popular studio interfaces and is a professional tier provider of studio equipment.
Presonus Audiobox iTwo
- If you are using a USB Mic and you're ready to upgrade to an interface that can record analog condenser microphones, this is the way to start.
- Very competitive pricing to Scarlett 2i2 and if you don't need the bundle
- Presonus is a long standing trusted brand in pro audio.
Audio Technica ATH-M50
- Limited edition Deep Purple in color
- Flagship AT mixing headphones
- Great build quality and very flat EQ specturm
Shure MV7 Podcast Microphone
- USB Functionality, but introduces us to the Shure line in the studio world.
- Really great sounding whether you're tracking or live streaming in the studio.
- Hot new product from Shure and built like SM7B
Akai MPD18




- Compact pad MIDI controller


- Great for sampling and/or making beats
- USB Powered for production or performance
You're ready to take your music production to the next level. You want industry leading quality at a great price. Whether you're looking to make a small upgrade or overhaul the entire home studio, we got you covered.
Audio-Technica AT4033a
A strong up-front presence characterizes the sonic signature of this versatile pro-audio classic. The AT4033 features transformerless circuitry that virtually eliminates low-frequency distortion. The results? Great studio recordings of guitars, brass, vocals, strings, and more, every time!
sE Electronics X1 S Studio Bundle


This sE Electronics Studio Bundle helps you achieve isolated vocals in small home studios and untreated environments. The sE Electronics X1 S large-diaphragm condenser mic balances warmth and clarity, making it wonderful for vocals and instruments alike. The RF-X Reflexion Filter mounts your microphone inside a sound-dampening filter to keep extraneous noise from being picked up by the microphone. And a pop filter is included in the package to minimize annoying plosives. With this setup you'll be equipped to record clear, focused vocals, even in rooms with imperfect acoustics.
Shure SM7B Cardioid Dynamic Vocal Microphone


While Shure's SM7B is a first-call mic for many sources, it's a total rockstar dialog microphone. You'll find this dynamic beauty dangling from broadcast booms in voiceover, ADR, radio, and podcast studios around the world. There are two settings that let you tailor the SM7B to a wide range of voices and applications. Whether you want to bring out the resonance of a deep baritone, tame the brittleness of a high soprano, capture a whisper, or record a gunshot, the Shure SM7B is a must-have part of your rig.