Use SEZZLE to Split Order Into 4 Interest Free Payments!
Login
Log in if you have an account
Register
Having an account with us will allow you to check out faster in the future, store multiple addresses, view and track your orders in your account, and more.
Create an account
Summer NAMM Full Recap
16 Jul 2019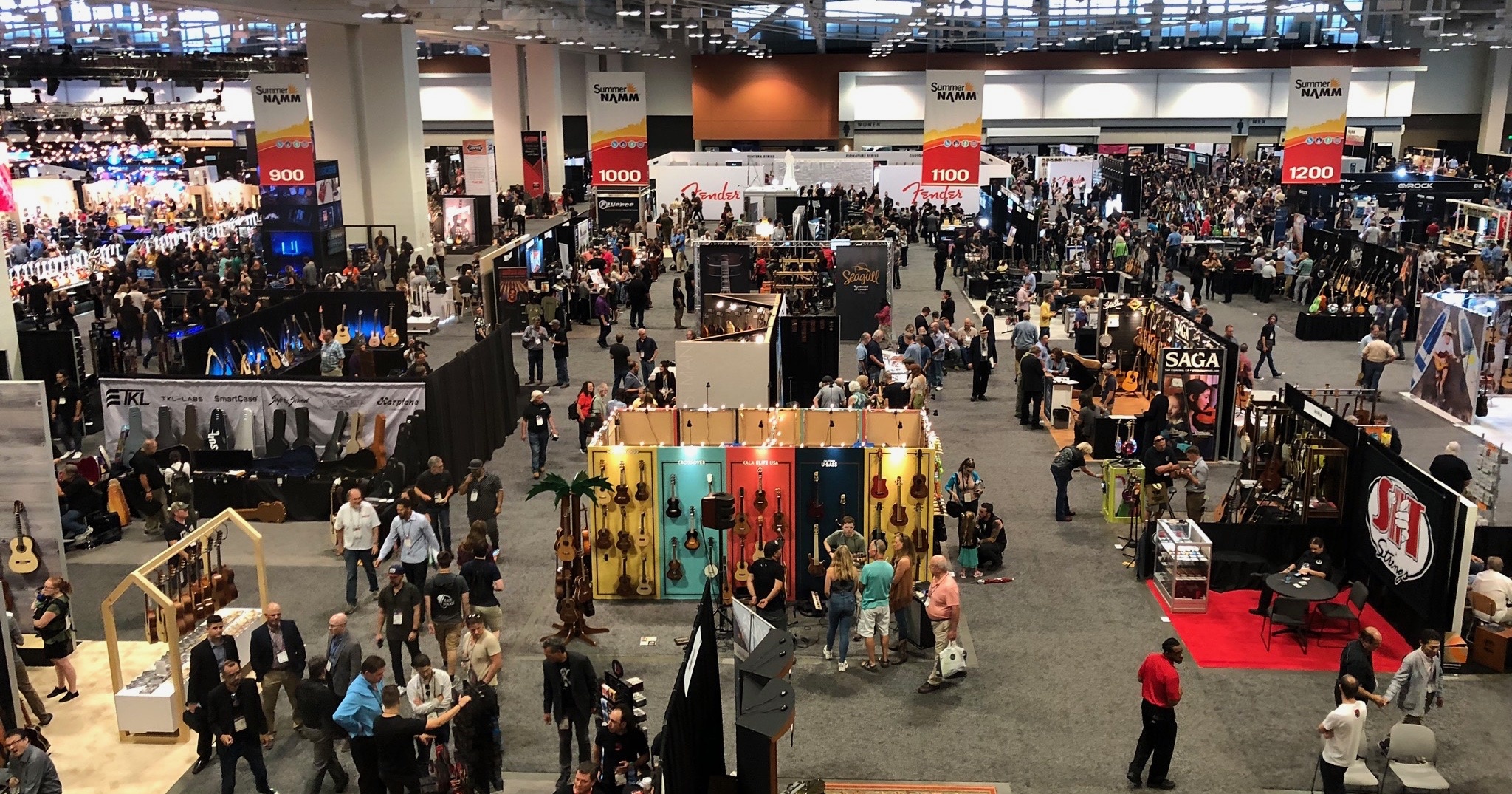 DAY 1
This is it. Summer NAMM 2019. In other words, we're here at one of the world's biggest platforms for new music products. The place is crowded with retailers, distributors, sound professionals, representatives from studios, and so much more, and they're all here to help us pick out the best new products for you. From Gibson to Kala to Fender to Reverb to Yamaha...Summer NAMM has it all. It's awesome, and we want to share this awesome experience with you! So, without further ado, here's what went down on the first day of Summer NAMM 2019!
First up we have Dunlop. Not only do they sympathize with all of the Jimi Hendrix fans when trying to achieve anything close to his legendary tone, but they also figured out a way to get that tone out to the masses! The new Jimi Hendrix line of pedals achieve this with 5 new pedals including a Fuzz Face, Octavio Fuzz, Uni-Vibe, Gypsy Fuzz, and Cry Baby Mini. These pedals sound fantastic and put you as close as possible to playing in the shoes of a worldwide legend. 
Any NAMM convention wouldn't be complete without checking out what's new with Gibson. We were overwhelmed with all of the exciting things Gibson is bringing us very soon. We were able to check out some of the new acoustic guitars. They are rolling out new acoustic guitars in three different classes: Standard, Studio and Deluxe. Across the different price points, there's a number of great features, different woods, and many other variations both visually and sonically. They also plan to roll out a Vintage Reissue series of acoustic guitar strings to pair with their new line of guitars and we're really excited about it! Alex got a chance to demo some of the new electric guitars as well. He loved playing the Gold Top '45 Les Paul (pictured below) as well as a chance to hold Chris Cornell's signature guitar. We're so confident you're going to love the new line from Gibson, that we've gone ahead and ordered some Custom Shop Les Pauls for the store and we can't wait for you to try them.
Next up, we stopped by Fender to see all the new things they're rolling out this year. We've already got a head start with Fender's new Vintera series electric guitars. We currently have two of them in-shop right now - and more already ordered! Our friends, Ben Walker and Kenny McWilliams, even jumped in on the fun with a Fender 60's Vintera Series Jaguar in Ocean Turquoise with a matching headstock. Fender showcased a few of their player's signature guitars, including Lincoln Brewster's gold Stratocaster. We also had a chance to try out their new Tone Master series of classic amps such as the Twin Reverb and Deluxe Reverb. These amps are half the weight (33lbs) of a normal amp of this size (66lbs) and include one interesting feature that blew us away - no tubes! Even without the tubes in the amp, we were shocked at how incredible the sound and feel of these amps had as well as the quality of tone and just how great these new Vintera guitars sound through them. We can't wait for you to get your hands on some of these new products from Fender. Come check out the two Vintera guitars we have in stock already and stay tuned for all the new Fender stock we're bringing home.
Our next stop was with our friends at Martin. We got to check out the recently released Modern Deluxe Models, one of which is currently sitting in our store for you to try (Click Here). Martin also showcased their new Road Show series. Even Justin had to grab a hold of one of these to try! Martin is always looking at ways to improve the overall build of these guitars and that includes their tuners. They added a new pickup system, the MXT, which sits just inside the soundhole. This is also where the tuner sits. Not only does this make for a much more accurate tuner but also creates a cleaner aesthetic on the outside of the body of the guitar. Martin is also introducing a new guitar in a beautiful sunburst finish - the Dreadnought Junior with pickup. It's great to hear such a classic dreadnought tone in something so much smaller and suited for stage play. It's exciting to see Martin pushing the envelope and introducing new and exciting ways to improve the world of acoustic guitars. We have also ordered a handful of the new Road Show series acoustic guitars as well as a Limited Edition 000e (only 125 of them made) and we can't wait to share them with everyone back home.
There's so much more here to cover so tune in tomorrow and Sunday as we explore the rest of all that Summer NAMM 2019 has to offer. We're so thankful for the support from everyone back home and we can't wait to come back and share all of the new and exciting products with you. Make sure to follow us on facebook and instagram to see some more behind the scenes of our travels as well as the daily updates from Summer NAMM 2019.
DAY 2
Wow! Here it is. Day two Summer NAMM 2019. We have already been blown away by all that these amazing companies have to offer. We've already covered so much, but there's plenty more to see.
Our first stop for Day Two was the Taylor booth! We caught up with our friend, Don Rodrigues, as he showed off to us some beautiful Summer NAMM exclusives! We've already ordered several for the store and can't wait to show you. We have a 414ce with cedar wood top and a 714ce with a sinker rosewood top. Don also showed us the new Big Baby Taylor walnut guitar and an all koa wood Baby Taylor. Overall we enjoyed seeing all the new and exciting things coming from Taylor and can't wait for you to see what we're bringing back for the store.
Up next, we stopped by Kala and spoke with our new friend Joseph to check out some of their higher-end line of American Elite Models that we want to bring to the store. Kala also decided to sponsor our future Sims Uke Jams so expect lots of giveaways coming soon! Make sure to watch our Facebook event page for upcoming Uke jams! 
We stopped by Fender again to pay a visit to our great friend, Rhett Smith, who showed off the new Tonemaster amps. These amps sound amazing and weigh half as much as the traditional Deluxe Reverb or Twin Reverb! Fender took the best vintage amps they could and spent 3 years developing these amps to sound just like them! No tubes, no weight...no problem! We can't wait for you get to hear (and feel) how good they sound!!
Our next stop was Yamaha. We got to check out their red label acoustics. They're also doing a remake of '60s models. We were lucky to get away from all the NAMM show craziness and step inside their soundproof room to really get a good listen to these beautiful guitars. We were very excited to see all that Yamaha has coming out with their acoustics, including some special limited models that we hope to have in Sims soon! If there is ever a particular model that you are looking for, please let us know and we would be happy to help order it for you!
Shortly after, we stopped by Marshall to check out some of their amazing new amps. We got to spend time with our great friend and rep, Vance Marshall, and chat all things Marshall! We've always been a proud Marshall dealer and are thrilled to have a ton of great stock at the shop right now, including the Origin Series! Come see Jake at Sims to get a demo of all of their great models! Also, there may be a Marshall amp sale in the near future so keep an eye out for special deals on fantastic amps!
One of the other stops we made was by Seagull guitars. We have been loving having these guitars at Sims and we just received a fresh shipment this week! If you are looking for a great playing and sounding guitar without breaking the bank, there isn't a better option!
We're down another day, with one day left. We've enjoyed our time here so far at Summer NAMM 2019. But there's plenty more to show! Stay locked in with all that's going on and a behind the scenes look by following our Facebook and Instagram.