Use SEZZLE to Split Your Purchase into 4 Interest Free Payments!
Login
Log in if you have an account
Register
Having an account with us will allow you to check out faster in the future, store multiple addresses, view and track your orders in your account, and more.
Create an account
Summer NAMM Day One Recap
28 Jun 2018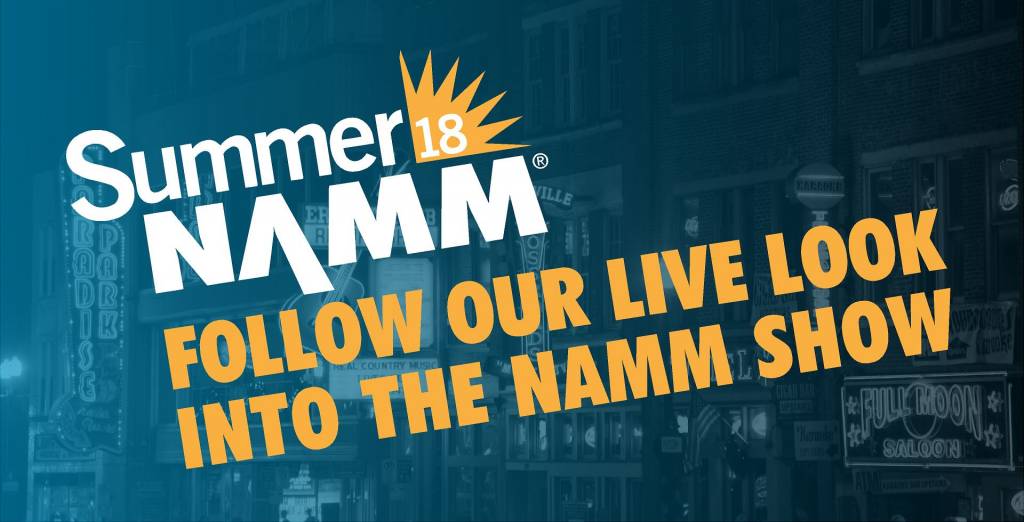 This is it. Summer NAMM 2018.
In other words, we're here at one of the world's biggest platforms for new music products. The place is crowded with retailers, distributors, sound professionals, representatives from studios, and so much more, and they're all here to help us pick out the best new products for you. From Taylor to Kala to Fender to Walrus Audio to Reverb to Yamaha...Summer NAMM has it all. It's awesome, and we want to share this awesome experience with you! So, without further ado, here's what went down at the first day of Summer NAMM.
The morning started with a breakfast session with the NAMM president and CEO, Joe Lamond. We were able to hear about new business and retail strategies to grow Sims Music from some of the best retailers around the world. Over the course of the weekend, we'll be able to attend more sessions to learn about how to make Sims Music an even better music store for you!
After breakfast, the day really started. There were concerts by Ginger Cowgirl and Butch Walker, demos by fantastic guitarists, giveaways, meet and greets with some of the music industry's best musicians, and more. The day was PACKED.
But enough about that...let's get on to the main event: the show floor.
The show floor is where it's at, and by "it" we mean all the latest and greatest music products. We had an amazing time looking through the booths and picking out the perfect new additions to the Sims Music store. Are you curious what we found? Well, keep on reading!
First stop: Hug Straps!
We love Hug Straps here at Sims Music because they are THE best straps for your ukulele. These straps are made from three separate pieces, which lets you adjust the straps to fit any size ukulele and to fit anywhere on the ukulele's body. Also, these straps just look awesome. We finally got to meet Melissa, the creator of Hug Straps, and it was great! We already have some of these straps in stock at Sims, so come check them out (your ukulele will thank you). 
Next, we visited Kala to check out their new ukuleles. Kala ukuleles are great because there's one for everybody! Kala offers high-quality and great-sounding ukuleles in all price ranges, in many styles, it tons of finishes, and in a variety of woods. While we were there, we got to chat with our good friend Mikela. Jerry and Mikela had a great time talking about life and ukuleles, and we even picked out a few new ones for the store that you can see in the next picture!
After Kala we headed over to check out some new percussion products. We saw the new drums from British Drum Co., which were pretty cool. Some of the best drum-makers and musicians in the industry, such as Keith Keough and and Ian Matthews, teamed up to create these drums. So, you know they're going to be good! If you're interested in these drums, let us know in the comments below or at the store!
Once we finished looking at these drums, we headed over to hang out with our friends from Reverb. If you haven't already checked out our Reverb shop online, you definitely should! 
The next stop for us was Walrus Audio, which is an amazing pedal company. These pedals are versatile, functional, and artistic. Just ask Alex at the store about these pedals, because he loves them! We just got these pedals in the store last week, so come by to have a chat with Alex and check them out.
We also got to see Yamaha, where we found their new lightweight hardware. This hardware is made out of aluminum, so it's sturdy and portable!
This hardware is coming out soon, so we are taking preorders now! Contact the store to get your preorder in!
Our last (and one of our favorite) stops of the day was at Fender. The focus of the Fender booth was the new Player series, which we got to check out at the Fender show in California just a few weeks ago! The Player Series embodies the classic Fender sound and look. It's authentic and versatile, so it's able to suit whatever music you want to create with it. We already have some of these guitars in the store, so if you're looking for a great new addition to your collection...we have you covered.
While we were at the Fender booth, we got to check out some of the new contemporary basses from Fender, and they look (and sound) fantastic.
Also, with a great Fender electric guitar or bass, you need a great Fender amp. Fender has released the new version IV of their classic Fender amps, which you can already find in the Sims Music store!
Lastly, we got our hands on some of the new Grace Vanderwaal ukuleles by Fender! These ukuleles represent the "Boho Chic" style of Grace with a great, rich sound and and easy-playing feel. If you're looking for a new ukulele, these Fender ukuleles are beautiful!
Well, that's it for Day One at Summer NAMM for us! We checked out a few more events later on in the evening, and now we're getting ready for Day Two. Check back tomorrow for Day Two's recap and to see what other cool things we're getting ourselves into here at Summer NAMM 2018!