Use SEZZLE to Split Order Into 4 Interest Free Payments!
Login
Log in if you have an account
Register
Having an account with us will allow you to check out faster in the future, store multiple addresses, view and track your orders in your account, and more.
Create an account
Summer NAMM Day Three Recap
30 Jun 2018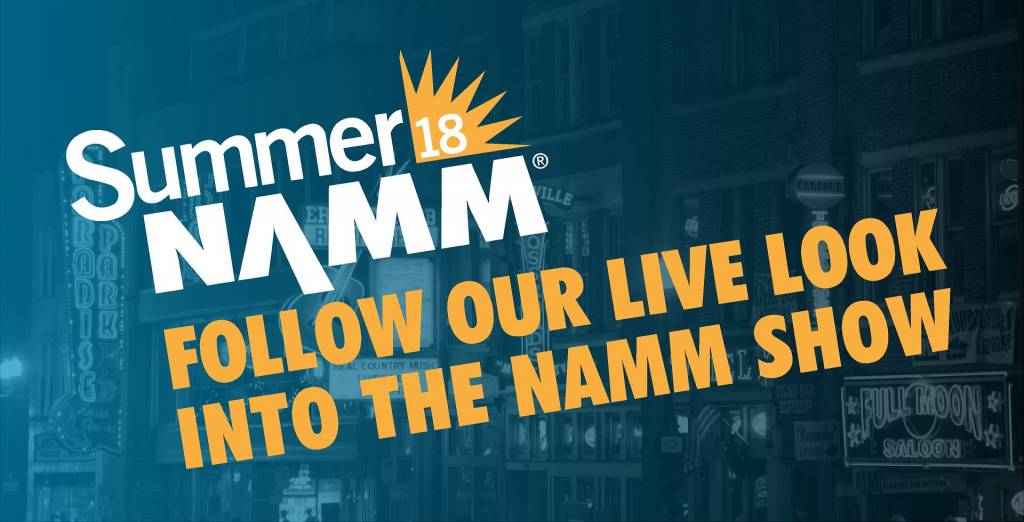 Well, we made it: the final day of Summer NAMM 2018! After a morning of best in show demos, music making forums, and shows by Lillie Mae and Mona, we headed down to everybody's favorite place: the show floor. While we found a lot of great new products the first two days, this day we hit the mother-load: Taylor, Gibson, Vox, and so much more.
So what did we find? Well, keep on reading!
Our first booth of the day was Taylor, one of our favorite acoustic guitar brands here at Sims. While there, we checked out the new Taylor V Class, including the Taylor V Class 814ce-DLX that you can see above (which is already in stock at Sims!). Instead of the traditional X-bracing, these guitars have an innovative V-bracing that creates vibrations that are louder, longer, and more in tune. We were one of the first stores in the country to get these new Taylors a few weeks ago, so come check them out! Also, we'll have the new Taylor V Class 714ce (pictured on the left below) in the store soon. If you want this beautiful guitar, place your order now!
But wait! There's more! The 500 and 600 Series in the new V Class bracing are also going to be available at Sims soon. Preorder yours now!
While we were with our friends at Taylor, we discovered a new, beautiful, limited-edition guitar: the Taylor 400 Series with a maple back and sides, but a spruce top front. This guitar sounds as good as it looks, and you know you can never go wrong with a Taylor. This guitars are only available to stores that were at NAMM (which means your favorite, Sims Music, is one of the lucky few)! We are taking orders now for this one-of-a-kind guitar, so if you want to add this beauty to your collection tell us now!
Speaking of limited edition, we also got to see some new MXR Carbon Copy and Phase 90 pedals. If you want to rock, these pedals are for you. The Carbon Copy pedals can go from crispy echoes to epic delays, and their internal trim pots allow you to adjust the pedal to fit your modulation needs. The Phase 90 pedal is a necessary tool for any guitar player since its modulation can go from subtle to epic with a quick twist of a knob. Suitable for any style of music, these pedals are any guitar player's dream. Order the limited edition versions of these pedals at Sims now!
MXR also released this new pedal at NAMM! The Dyna Comp Deluxe offers great control and unique compression, and its new and updated interface allows you to adjust and and shape your sound to fit your needs (whether that be '70s rock or modern day jams). This pedal is coming to Sims soon, so be on the lookout for it!
Also, if you're in the market for a new pedal, we found more great options at the Way Huge booth, like this Overrated Special pedal.
Like the Doubleland Special, the Overrated Special was made in collaboration with Joe Bonamassa, but it is a smaller version. With its single button, this pedal offers the ability to create bold, punchy mid-range tones. If blues or rock is your thing, this pedal is for you.
We also found some awesome Fender pedals to add to your pedal collection! These pedals are brand new and just debuted at NAMM. They create some fantastic sounds, and they'll be a great addition to your pedal board if you're looking for trustworthy, innovative pedals. They'll be at Sims soon, so make sure to swing by and see all that these new pedals can do!
With all your new pedals, you'll need somewhere to put them. Thankfully for you, we got to check out this awesome new board that was the product of a collaboration between Mad Hatter and Earth Pedal Systems. The Earth Board is completely unique and innovative. Why? Because it also runs on completely wireless power! The board sports steel rails that lock your pedals into place with the help of strong magnets, and it's these same magnets that provide the voltage through the steel rails to your pedals to make them run! If you're interested in this board, let us know!
After checking out all these new pedal options, we headed over to see the new amps that were on display at NAMM. Our first stop was with Vox, where we found some awesome new equipment.
If you want an awesome '60s looks with a great tube tone, the Vox Mini Superbeetle is your amp. This amp gives you a sparkling, bright sound with the option for a deep tremolo effect and classic reverb. The versatility of this amp is great, and the classic design will look fantastic whether you're jamming on stage or playing in your house. We can't wait for this amp to hit the Sims floor soon!
Vox also had its new AC30 OneTwelve on display. This is a huge deal because this new version is 20 pounds lighter than the famous 2x12 version! If you're a gigging musician, you need this amp for all your shows! Whether you're playing a clean riff or amping up your overdrive, this amp can handle it all. It's sound is straightforward and classic, which means it can handle all your gigs. 
Lastly at Vox, we got to see their new limited edition AC10. With upgraded speakers and the authentic Vox look, the AC10 is simple to use but classic in tone. This limited edition version offers a more dynamic range, more clarity, and and more versatility. This incredible amp will be coming to Sims soon!
Now, while we're on the subject of amps...we're excited to announce that we're upgrading out Blackstar amp department! Make sure you check in to see all the new products we're going to be carrying, starting with the new Unity bass amps.
These amps are already in stock at Sims, so if you need a straightforward and powerful sound in an amp that allows you to create your own dynamic tone, you know where to find us. These amps offer flexible sound for any playing style, and they give you great versatility in amp stages, compression, drive, and dynamics. Blackstar Unity Amps are great for any and all bass players!
Another stop of the weekend was with the one and only Gibson. All weekend, Gibson's booth was slammed with people, so we were super excited to get a chance to check out all the new guitars they're releasing this year. Some of the ones we're most excited about are all the new 2019 Les Pauls. We already love the iconic Gibson look and sound, and now they're coming out in a variety of new, beautiful styles!
These awesome guitars will be at Sims in September, so mark your calendars!
If Les Pauls aren't your style, though, don't worry. Gibson also is releasing new SG models...and they look great.
This new Gibson Firebird is also coming out soon, and we can't wait because it look so cool (and we know it will sound even better)!
Our last stop of the weekend was with Cordoba, which makes some of our favorite ukuleles and classical guitars.
Cordoba released a lot of new ukuleles, and we made sure to buy a bunch! This is such a great brand, and their ukuleles are not only great to look at, but they're also great to listen to. Their smooth and beautiful tone is unmatched, and you can be sure that every Cordoba ukulele is expertly crafted and comfortable to play. These ukuleles will be in the Sims store soon, so if you're looking for a new ukulele...check out Cordoba!
If you're not looking for a ukulele, Cordoba also released some new acoustic guitars! We love these guitars because they're great for young classical players all the way up to expert players. These guitars look and sound traditional, but they implement modern innovation to give you the best sound and playability. We already have some Cordoba guitars in stock, and more are on the way!
So, that wraps up our weekend at NAMM! Columbia was well represented at NAMM (from left to right, Chad Rochester, Joe Stillwell, Archer Avenue Studio owner Kenny McWilliams [all three from Real Work Band], local musician Ben Walker, and Sims Music's own Justin Sims), and it was great being able to hang out with these guys and so many more musicians and retailers from across the world. We loved getting to be in Nashville and getting to share it with you guys, and we can't wait until all our new products come in so we can share those, too! So, we'll see you in the store soon!