Use SEZZLE to Split Your Purchase into 4 Interest Free Payments!
Login
Log in if you have an account
Register
Having an account with us will allow you to check out faster in the future, store multiple addresses, view and track your orders in your account, and more.
Create an account
Summer NAMM Day Two Recap
29 Jun 2018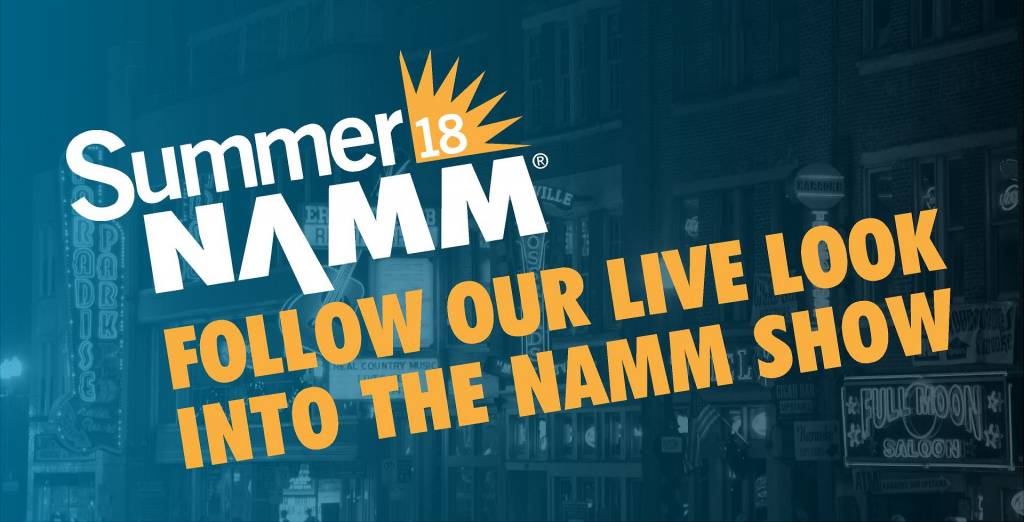 Day Two of Summer NAMM 2018 has come to a close, and it did not disappoint. The day had it all, from a talk on new guitar trends by Laura Whitmore of Mad Sun Marketing to a studio engineering summit led by Chris Lord-Alge to the prelims for the World's Fastest Drummer to concerts by Mean Mary & the Contrarys and Jon Hammond Funk Unit. 
When we weren't checking out all these cool events, we were on the show floor, scoping out even more new products for the Sims Music store. Did we find anything good?
You betcha. Check it out!
Today we got to check out one of our all-time favorite brands, Martin Guitars. Martin just released a new guitar series called the Gloss Road Series...and it is awesome. These guitars stay true to the classic Martin tone with their solid wood construction, and they offer great playability in all music styles. With the Gloss Series, you not only get a beautiful Martin sound, but you also get a beautiful, glossy Martin look. It's a win-win. Be on the lookout for Gloss Road Series in Sims soon!
Martin wasn't our only guitar stop for the day. We also got to check out Seagull Guitars, which are in stock at Sims now. These Canadian-made guitars are awesome, from their sustainably sourced wood all the way down to their uniquely shaped headstocks that help in your quest for perfect pitch and tone. Come by the store or visit our website to check them out for yourself! 
After checking out the acoustic guitars, we made our way over to Aguilar to check out their new amps and pedals. Aguilar is known for making some fantastic equipment, and the new 410 Cabinet is no exception. Coming in at only 49 pounds (which is only about half of what most bass cabinets weigh), this amp gives an awesome sound with its rich lows, clear mids, and smooth treble. This amp is making its way to Sims soon, so get ready!
Aguilar also has some fantastic bass pedals that promise bassists great range and performance without losing any of their low ends. These pedals will be in the store soon, so get ready to take your playing to the next level with Aguilar!
Our last visit of the day was with our good friends at Gretsch. We already love their drum kits, and we know you do, too. The Catalina Kit, which is normally in stock at Sims, will be back soon! This kit is the perfect blend of classical sounds and modern hardware. From its vintage tone to its great playability, the Catalina kit is awesome. 
We also saw the beautiful Gretsch Renown Kit. If you want to stand out as a drummer, this kit is for you. It's versatile, so you can play anything from your favorite '50s jams to today's hits. The open tone of these drums is beautiful, and it stays true to the authentic Gretsch sound. 
In the evening, after we spent a good amount of time in the show room, it was time for The Top 100 Dealers Awards Banquet. And guess who made it on the list... *drumroll on a Gretsch kit*
That's right! Sims Music was recognized by NAMM as one of the top 100 music dealers in the WORLD. We are so honored, and we know we couldn't have done it without all our fantastic customers! 
So, we were able to close out the night with a great banquet, an incredible award, and a wonderful concert by Craig Boyd (who, if you didn't know, won Season 7 of The Voice)! All in all, our second day at NAMM was awesome from start to finish. We're excited to see what day three has to offer, and we can't wait to share it with you! Be sure to check out our Day Three Recap tomorrow!