Use SEZZLE to Split Your Purchase into 4 Interest Free Payments!
Login
Log in if you have an account
Register
Having an account with us will allow you to check out faster in the future, store multiple addresses, view and track your orders in your account, and more.
Create an account
The Uke Life and all you need to live it!
22 Jul 2019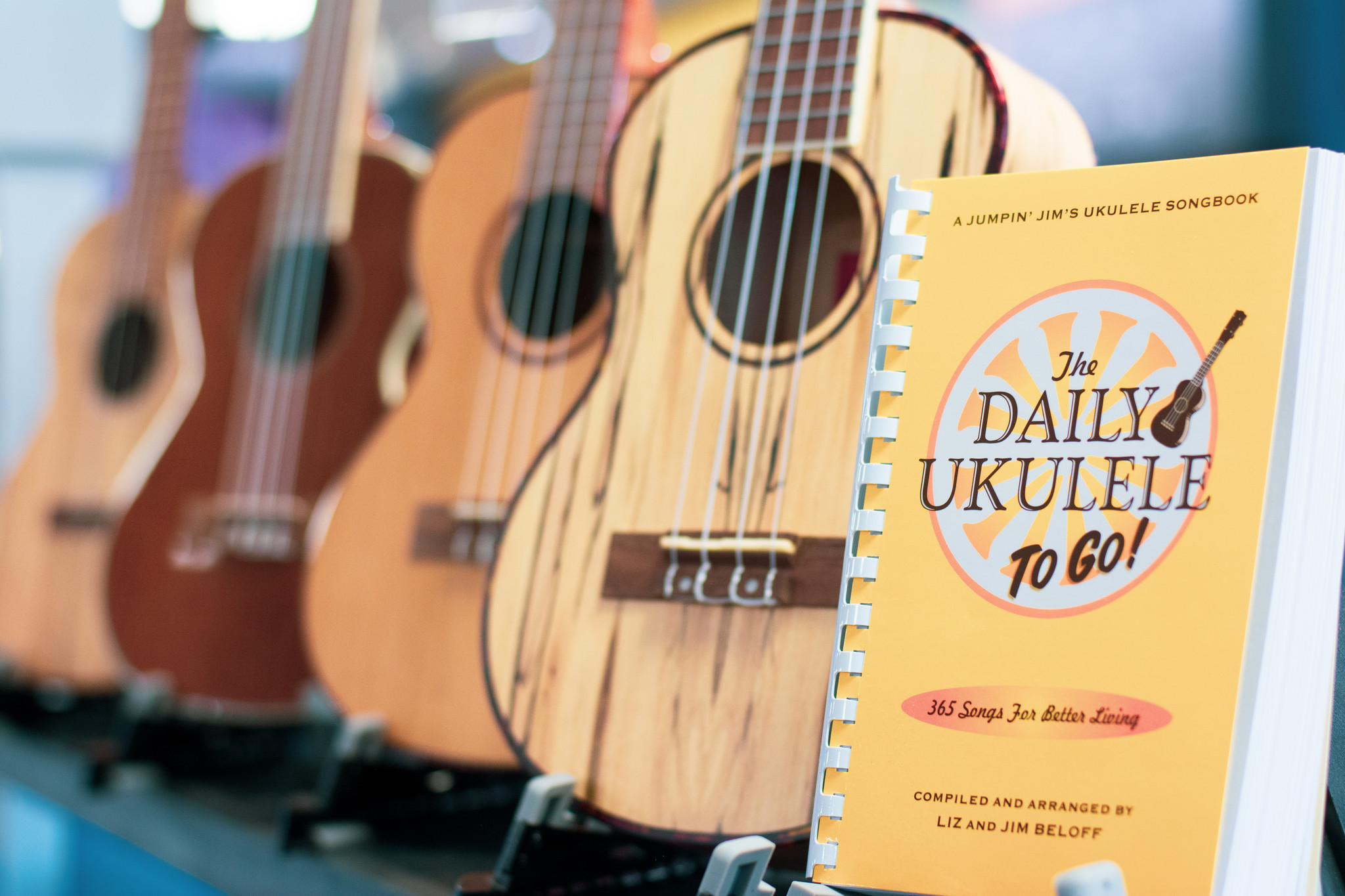 I remember when we filled up our first ukulele rack at Sims with 10 ukes...we thought we had the best selection out there! Here we are, 5 years, later with over 100 ukuleles in stock. (and we do not plan to stop there!)
Why is this happening? Ukulele is easier to play than most instruments, they sound and look great, but I think what has really driven the uke world is how much its based around community! Our ukulele jam (and all of the many great ones around town) are prime examples of this. People can easily come together and express themselves and share music like never before. Whether someone is 5 or 85, the ukulele is available for them to play and grow as musicians. I am a drummer and have never really had the ability to sit and play through a song on a melodic instrument...until the ukulele. Whenever I can, I'll get out to Freeway Music Sip N' Strum downtown and in minutes I am able to play through all of these amazing songs that I've been listening to my whole life. Its group events like this that have really grown the ukulele community in Columbia and I can assure you that there aren't too many cities out there enjoying the ukulele like we are!
Another great thing about ukuleles is the price! You can get started for cheap and build an entire collection and still spend less than the price of one guitar! And then on top of that, there are endless accessories! When a drummer or guitar player wants to buy some cool accessories or add ons to his or her collection, they've got to be be ready to spend a decent amount of money, whether it be for a cymbal, effects pedal, or other miscellaneous tools. As our customers have been growing as ukulele enthusiasts and artists, we have had a lot of them asking about what all they need to have the best setup possible. Below is a list of some of my favorite uke-cessories needed so that anyone can be ready to rock at the next uke jam at the library, at Sims, Sip N' Strum, or just in their backyard with friends and family!
The Daily Ukulele
This amazing collection of uke tunes has become the most popular book at our shop by far! With 365 songs, you can learn and play a new song every day of the year! And if that isn't cool enough, there is also a Leap Year Edition (which we will be using at the 2020 Jams!) with 366 more songs. There is also a mini travel version and a baritone version. I highly recommend every ukulele player has this book by their side at all times!
Ukulele Chord Chart
This cool little chord chart is loaded with just about every chord you will need for any song you come across in a local jam or in your favorite song as you look it up online. Grab one of these and keep in your gig bag at all times. You never know when someone may call out a new tune!
Gig Bags and Cases
You may have a $49 ukulele and don't mind carrying it around without a bag, but if you are like most ukers out there, you have upgraded and are proud of your new instrument! If that's the case, I definitely suggest getitng a nice padded gig bag or case. There are all kinds of hip looking options such as the new Kala Sonoma Coast Series bags (available in 4 great colors and all sizes) or the Kala Alligator Skin case!
The Hug Strap
For years and years companies have been making ukulele straps but they all had one problem...let go of the uke, and it'll fall to the ground. (I never did understand this :/) But now this issue has been solved! Melissa from 'The Hug Strap' has created the best ukulele strap in the world! By far our biggest seller (and favorite of Jessica Skinner's), this strap goes around the uke, eliminating the need for strap buttons, and allows you to play relaxed and comfortable. And on top of that, Melissa hand makes every strap using whatever patterned material she happens to have that week! We have had 100s of different designs that all have great colors and graphics. It's been a blast watching people find the one that fits them and their personalities! If you don't already have a Hug Strap, please come check them out! Once the world finds out about these straps, you are going to want to say you were there in the early days!
There are plenty of other cool accessories out there like capos, wall hangers (gotta show of the ukulele to your houseguests), artist related books, and more. But as long as you've got your uke, bag, songs, and strap...you can be ready for any situation! We are so grateful at Sims to have such a supportive group of ukulele customers and its so great how many friendships have been created because of this instrument. We once thought that ukulele was a fad that we would watch come to an end, but we are now confident and excited that ukulele will be here as long as music still exists. Thank you to all who continue to grow the community and encourage more and more people to play this amazing instrument and please let us know if we can ever do anything to support you in your ukulele endeavors! 
Thanks for taking the time to read along and we hope to see you at our next Sims Uke Jam on Tuesday, August 20th at 6:30! Bring a friend!
Sincerely,
Justin Sims