Use SEZZLE to Split Your Purchase into 4 Interest Free Payments!
Login
Log in if you have an account
Register
Having an account with us will allow you to check out faster in the future, store multiple addresses, view and track your orders in your account, and more.
Create an account
UNBOUND: Meet the new Sabian HHX!
01 Sep 2020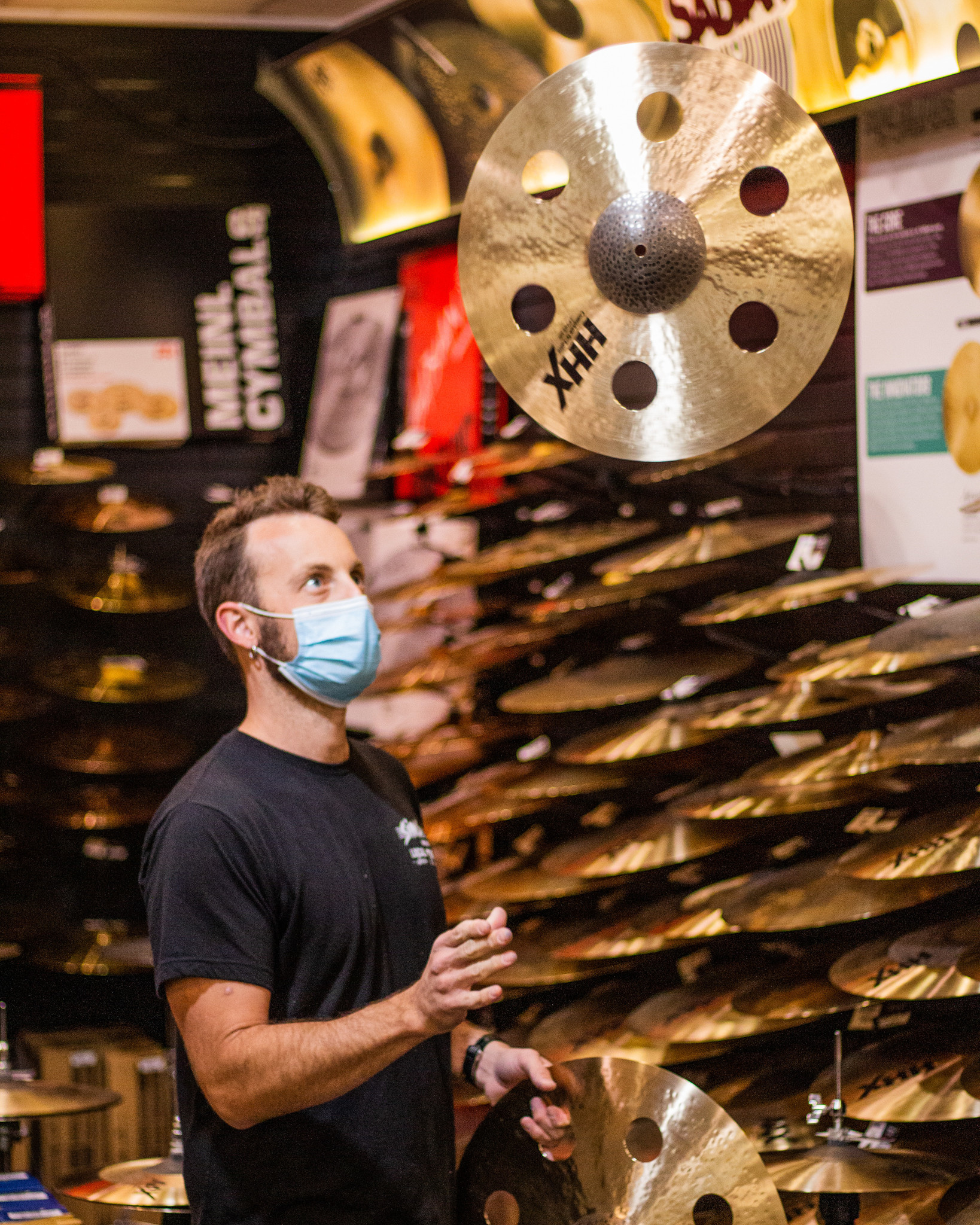 For over 30 years, Sabian has consistently produced some of the best cymbals in the world. While being a young company, in comparison to others, the amount of quality cymbals they have been able to design, build, and deliver remains unmatched. The product development team and cymbal craftsman at Sabian have always stayed true to the original methods and beliefs by their founder, the late Robert Zildjian, but this has not held the back from always chasing the next best thing and pushing the limits to get there. 
Over the last 5-10 years, we've seen a huge shift in the sounds, looks, and feel, that drummers are searching for as they look to add a new cymbal to their setups. Where drummers used to play smaller crashes and 20" rides, now they look for big crashes and rides upwards of 24 inches. Where bright and clear cymbals are just about all we heard on every record for the last several decades, now drummers are recording and performing with dark, trashy, and sometimes 'funky' cymbals. Because of these changes in what drummers are desiring, the manufacturers have had to adapt to provide them with what they need. And no one has done this more so than Sabian. They have continued to add great cymbals to their lineup with products such as the Big & Ugly lineup, bash rides, additional effects cymbals at every price tier and more. But over the last year or so, we have really seen the reinvention of their look and sound, as they have completely reimagined some of their most iconic cymbal lines, all while staying true to the quality and sound that was originally there when the company was founded. We first saw this with the redesign of the AAX lineup but now they have really changed the game with the recent change to the amazing Sabian HHX series.
For years and years, cymbal companies have had bright cymbals and dark cymbals, and the mixing of the two didn't ever really work too well for a drummer's setup and sound. What Sabian has done with the HHX completely fixes this issue. A drummer doesn't have to commit to an entirely new setup or have to try and match every cymbal in their setup so that they sound like they are meant to be together. The new Sabian HHX cymbals simplify things for the drummer (except that there are so many amazing sounding cymbals, a drummer may have a hard time deciding which one or three to buy). If someone has a setup of AA and AAX models, which come across a little more on the brighter sound, they can still throw in an HHX or two and they can work beautifully together. The redesign of the HHX line brought about thinner cymbals, with an unlathed bell, bringing about a slightly brighter and more cut through sound, all while maintaining their fundamental dark core and overtones. Also, by taking out particular models that had somewhat confusing names, and labeling the models as Thin and Medium models, a drummer can easily know which models they should check out for their setup. Aside from these two models, sits my favorite series; the HHX Complex models...
A while back, some of the guys from Sabian came to visit us and they brought in a handful of the new HHX models for us to check out, all while promising that we wouldn't take any pictures or tell anyone about them. We kept our promise but it wasn't easy. Among the models they let us try, was a Complex Thin Crash...and I immediately knew they had created something special. After this taste test, we anxiously awaited the announcement of the new series and then again waited for their arrival! It was worth the wait. The Complex Series arrived with Hi Hats, crashes, rides, and even effects cymbals! While maintaining the fundamental dark sound that is expected from an HHX cymbal, the Complex versions bring a new and interesting sound to the drummer and the audience's ears. It isn't anything drastic and sometimes the sound is hard to put into words, which would help explain the name of the series. As drummers are looking for ways to stand out and modify their sound, the hammered bell and unique hammering of the overall cymbal of the Complex models help deliver a slightly trashier, chime like texture, that you can't find in other models. While trying out these cymbals, you can just imagine yourself behind the kit in a small club or on a huge stage, with confidence that these cymbals are delivering the perfect sound for your gig. As I try the Complex series, I can quickly find myself roaming up and down our Sabian wall, and I am reminded that every cymbal that we carry sounds great in its own way and you can immediately feel and hear where each cymbal belongs. Whether it be the high end Complex series, the AAX lineup, or all the way to the B8X models, its obvious that Sabian has got every drummer out there covered!
If you haven't tried out the new HHX lineup or maybe still haven't tried the new AAX models, come by and see us and check out these amazing new models from Sabian. As they continue to push the limits by bringing more and more great products to market, we commit to bringing them to the store and to you!
Thanks for all of your continued support in these crazy times and keep the music alive!
Stay safe and rock on!
-Justin Sims