Use SEZZLE to Split Your Purchase into 4 Interest Free Payments!
Login
Log in if you have an account
Register
Having an account with us will allow you to check out faster in the future, store multiple addresses, view and track your orders in your account, and more.
Create an account
GEAR TALK: You Need an Overdrive Pedal
08 Aug 2020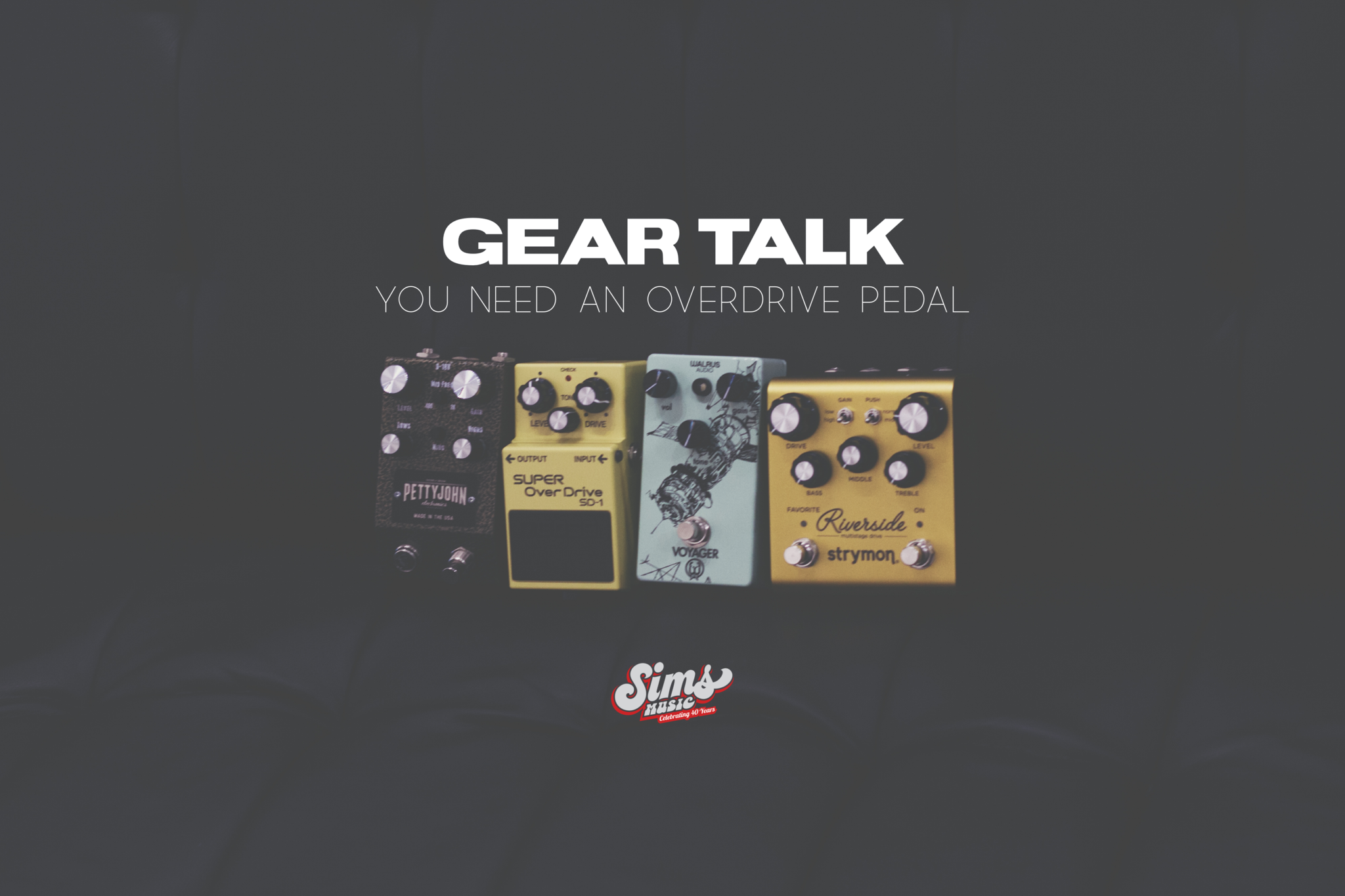 That's right. We're talking Overdrive pedals. My name is Adrian and today I want to share some amazing overdrive pedals that are sure to fill all of your tone cravings. We're going to share some low to medium gain overdrive pedals as well as some medium to high gain overdrive pedals that break the barrier into almost distortion if that's what you're into. 
But without further adieu, let's get into it.
Boss SD-1
This little pedal packs a punch. Boss has a notorious history of reliable pedals and timeless tone. The Super Overdrive pedal carries both of these qualities. At a budget friendly price point, you can't get a much better overdrive sound.
Walrus Audio Voyager
This is one of my favorite overdrive pedals of all time. The Voyager does a great job at living up to it's name. It has such a wide range of versatility. At low gain level, it has some decent breakup when digging into the strings but cleans up very nice with lighter play. Very much models how an amp's natural drive would sound. At high gain, it's punchy, thick and can cut through the mix very well. Whether it's a stage one or higher gain pedal, you're sure to find an incredible tone with the Walrus Voyager Pedal.
Strymon Riverside
No list of pedals would be complete without a Strymon contestant. Strymon has always created incredibly built pedals that not only look good, but sound amazing. There's a lot of versatility in tone control. Breaking away from the usual volume-gain-tone knob configuration, this pedal includes a few other options: It has a high/low gain switch, a low/mid push switch that adds a mid boost after the gain stage, and a favorite switch that allows you to switch between a previously saved tone and the current switch tone. Rather than just a single tone knob, this pedal has a knob for bass, mids, and treble. This allows you to dial in the tone directly. Whether you're going for a high gain drive, low gain drive, or both, this pedal can do it all.
Pettyjohn Electronics Gold MKII
Alright tone junkies, this pedal will wrap up our overdrive feature. While these pedals were in no particular order, I saved the Pettyjohn for last because a lot of people aren't familiar with their line. The Gold pedal from Pettyjohn is a fantastic drive pedal that really gives you all the power to shape the tone of your overdrive. Like an amp in a box, the Gold pedal features the ability to change where your mid frequency is shaped. It allows you to either boost or cut the mids anywhere from 400k to 2k. Which when you think about it... is almost the entire playable range of the guitar. This is one of the nicest pedals I've played through and you can't go wrong with having any of the Pettyjohn line to your pedalboard.