Use SEZZLE to Split Your Purchase into 4 Interest Free Payments!
Login
Log in if you have an account
Register
Having an account with us will allow you to check out faster in the future, store multiple addresses, view and track your orders in your account, and more.
Create an account
Live from NAMM 2020!
16 Jan 2020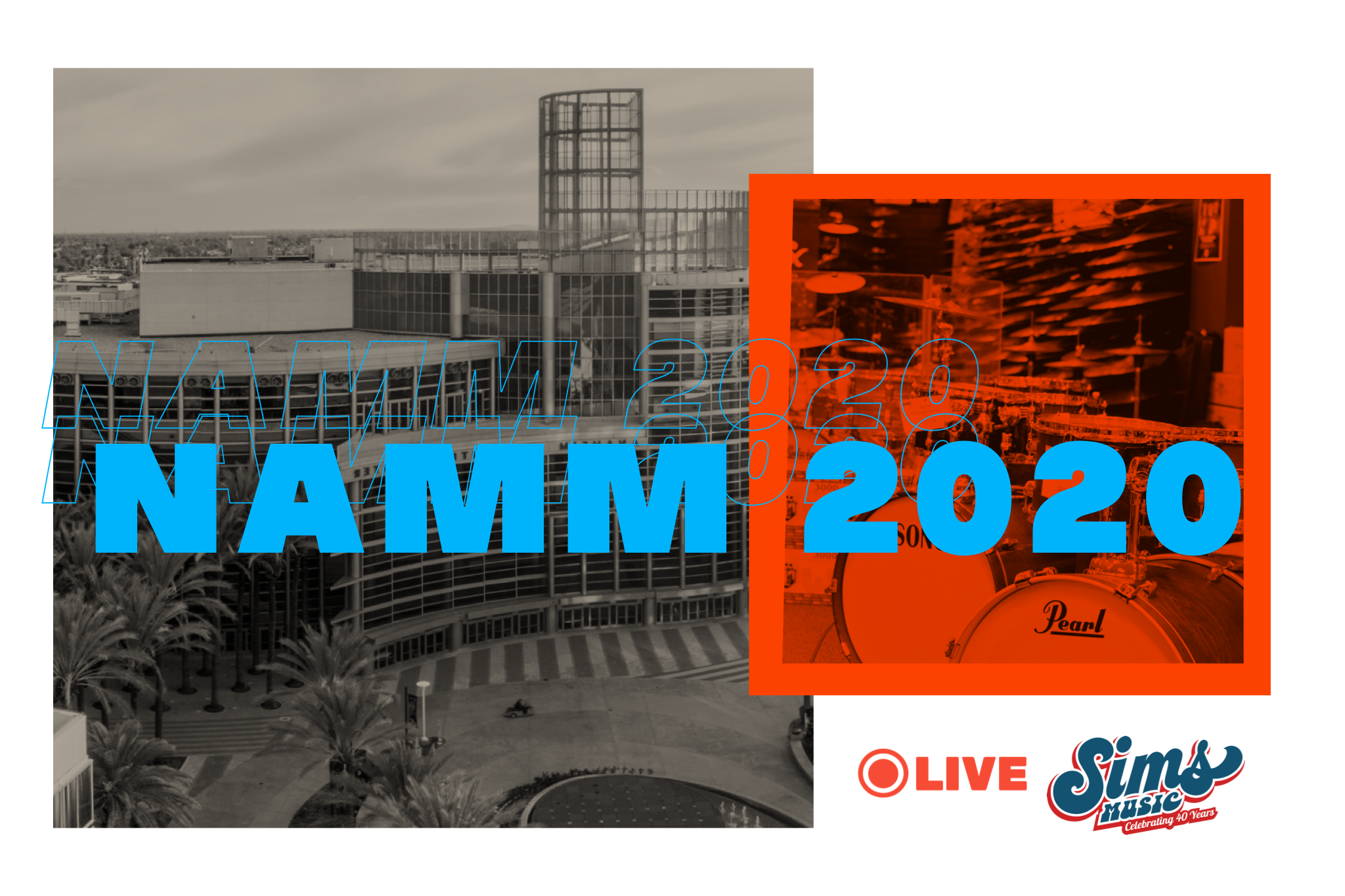 2020 NAMM Show
Anaheim, California
January 16-19th, 2020
The 2020 NAMM Show is here and we are so excited to be able to bring you a detailed look into the show! Be sure to keep an eye on our Instagram and Facebook for a live look throughout all 4 days of the show and continue to check back here as we continuously update our blog with some of our favorite new products!
We had an awesome first day checking out all that Fender will be bringing to the table in 2020. Check out some highlights from the day and check out the new products, some of which are already set to arrive at Sims Music very soon!
Bringing Back A Glimpse of the 50's...
As you know, NAMM is the place the guitar collectors dream about going and the place guitar buyers find the gems! This year we've landed and ordered a ton of new products, including a pair of very beautiful strats from the Fender Custom Shop! they are both designed around the 1956 strat and in amazing custom colors. 1956 is possibly my favorite year for the strat, something about the v neck carve and the chunkiness that comes with it really fits my hand like a glove. I have also wanted a shell pink guitar just about all of my life, so this one was really breathtaking. If you have not played a CS guitar from Fender, you are missing out and need to treat yourself! We have a few on the wall at the store and I'd love to get one in your hands.
Today, we got to check out the Gibson room. We've been really excited about all the new guitars that we've brought in and sold in the shop this year. Something tells us Gibson is due for an amazing year in 2020 and Sims Music has got you covered. While we have plenty of photos for you to see, we wanted to let you see just for yourself how great a time we had checking out Gibson.
One of my favorite pedal brands of all time is JHS. Every year I stalk their page to see what they're coming out with and this year they did not disappoint! The new Colour Box, Paul Gilbert PG-14 and the Cheese Ball are AMAZING. We have will have all three in store (the PG-14 is already here) and we will be glad to let you give them a test drive! 
The Colour Box is a vintage preamp dream, immediately transforming bland guitar into rich, full and sweet tone. With the ability to go from full guitar tone to thin old country tone, the Colour Box is a tone junky's dream. The PG-14 is a preamp/drive pedal that JHS designed with Paul Gilbert to nail classic Paul Gilbert tones. The "push" control is probably the most fun knob I've used on a stompbox, completely transforming the feel of the pedal. Come by today and drive this guy! Plus, it looks cool as hell. The Cheese Ball will make any fuzz fanatic immediately fall in love. The "voices" knob is great for quickly finding the fuzz you want and then the other knobs really allow the player to dial in the perfect thick, gainy, messy, tight, nasty, cheesy, smelly, fuzzy guitar tone! A nust-have for the fuzz dudes and dudettes. 
Drums, Cymbals, & More!
New Products Already Announced:
Fender Acoustasonic Strat (Available for Pre-Order Now!)

New Dunlop Pedals (Available for Pre-Order Now!)